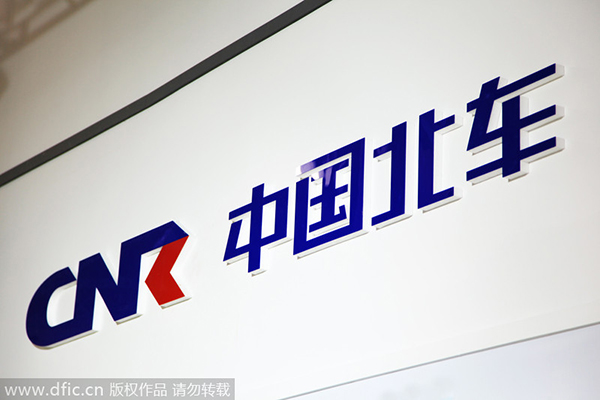 A signboard of CNR (China Northern Locomotive and Rolling Stock Industry Group Corporation) is seen during the 2014 China Modern Railways Exhibition in Beijing, in this October 29, 2014 file photo. [Photo/IC]
China CNR Corp Ltd has confirmed a 4.1 billion yuan ($656 million) contract with the Massachusetts Bay Transportation Authority (MBTA) for the State-owned railway carriage maker to supply 284 subway cars to Boston's Red and Orange Lines.
CNR MA, a joint venture between China Changchun Railway Vehicles Co and China CNR Corp, won a bidding process in October to replace decades-old rolling stock on the two lines that serve the greater Boston area.
The contract also requires the Chinese corporation to create more than 250 jobs on US soil by building a 13,935 square meter facility in Springfield, Massachusetts where the new vehicles will be assembled, according to MBTA's website.
The first CNR-built trains are expected to be delivered in 2018 and will be in service for 30 years or more.
Having built more than 12,000 kilometers of track at home in less than a decade, China has put high-speed technology atop its export list.
Boston is not the last stop of CNR's global expansion as it is in negotiation with 28 countries for possible high-speed train deals, according to the corporation's website.
CNR earlier announced major contracts worth 24.26 billion yuan ($3.95 billion), including the MBTA deal.