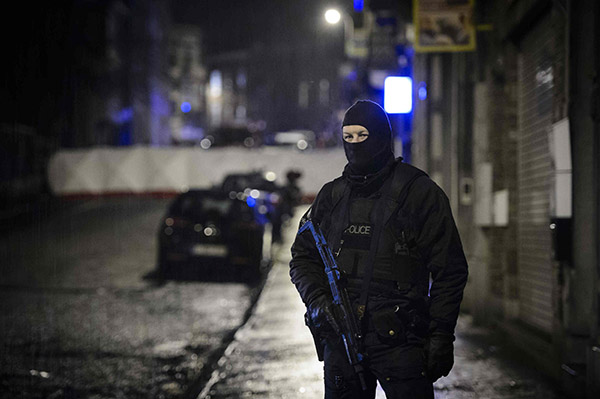 A Belgian special forces police blocks a street in central Verviers, a town between Liege and the German border, in the east of Belgium January 15, 2015. At least two people were killed when Belgian counter-terrorist police raided an apartment used by suspected Islamist radicals on Thursday, local media said, describing a coordinated, national operation related to last week's attacks in Paris. Judiciary officials confirmed only that a counter-terrorism operation took place in Verviers. [Photo/Agencies]
BRUSSELS/VERVIERS - Belgian police were questioning 13 suspects on Friday detained during raids against an Islamist group they feared planned to attack police and two other people were held in France, state prosecutors said.
A spokesman told a news conference there was still no apparent link to last week's Islamist attacks in Paris and the identities of two gunmen killed during one of the raids on Thursday, in the eastern town of Verviers, had yet to be confirmed.
As well as guns, including four AK-47 assault rifles, and explosives, police uniforms were found in the apartment at Verviers, spokesman Eric Van Der Sypt said, adding: "This group was on the point of carrying out terrorist attacks aiming to kill police officers in the streets and in police stations."
Asked about a report of a plan to behead a policeman - an echo of Islamist violence elsewhere, including an attack on an off-duty soldier in London in 2013 - he declined comment. He said there had been plans for attacks across Belgium.
He would not say where in France the two suspects there were detained at the request of the Belgian authorities.
Some of the suspects had recently returned from Syria.
In separate operations that officials said were unrelated, German and French counter-terrorism police also made arrests.
Belgian security forces were on high alert, with extra armed security in evidence at some public buildings, notably police stations. Public broadcaster RTBF said officers were told not to be on the streets alone while in uniform.
Some Jewish schools in Belgium and the Netherlands were closed, reflecting the heightening of an atmosphere of caution that has prevailed across Europe since Islamist gunmen killed 17 people in Paris last week at a Jewish grocery and the offices of the satirical French newspaper Charlie Hebdo.
Belgian officials were expected to give more details of their investigation on Friday but have said they had no grounds to see a link to the French attacks for now. A separate inquiry is probing whether the Paris gunmen obtained arms in Belgium.
A third man in Verviers was under arrest and being questioned as were several people held in a number of raids in and around the Belgian capital Brussels.
A former Belgian counter-terrorism chief told public broadcaster RTBF that the Charlie Hebdo attacks could have prompted Belgian police, who say they already had the suspects under surveillance, to bring forward the arrests.
"Paris may have speeded things up, in the sense that every country in Europe is on alert," said Andre Jacob. "Some information that may have been barely 'ripe' has been acted on quicker than planned ... because the threat was real."
The fact that the two unidentified men opened fire with assault weapons on police who called at the apartment in Verviers showed the danger the group posed, Jacob added.
On Thursday, prosecutors said the suspects had been on the point of launching "terrorist attacks on a grand scale".
All three Verviers suspects were citizens of Belgium, which has one of the biggest concentrations of European Islamists fighting in Syria.
Earlier on Thursday, in an apparently unrelated development, police detained a man in southern Belgium whom they suspected of supplying weaponry to Amedy Coulibaly, killer of four people at the Paris Jewish grocery after the Charlie Hebdo attack.
Belgian media quoted a national lawmaker as saying phone taps prompted the operation. There has been concern in Europe that the French attacks, carried out by known radicals not seen as priority threats by security forces, might cause other groups to capitalise on public anxiety by accelerating plans to act.