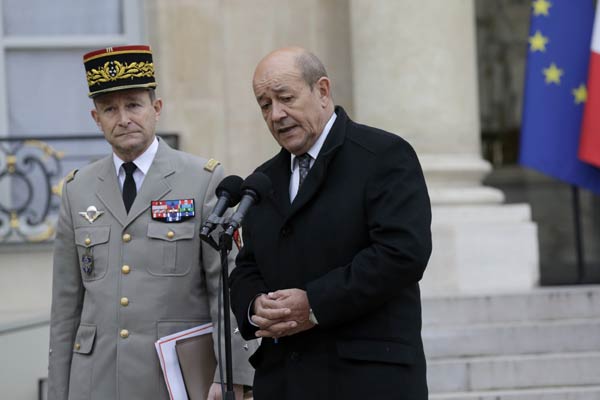 French Defence Minister Jean-Yves Le Drian (R) stands beside French Army Chief of Staff General Pierre Le Jolis de Villiers de Saintignon as they speak to journalists after a crisis meeting at the Elysee Palace in Paris, January 12, 2015. [Photo/Agencies]
PARIS - France will deploy 10,000 soldiers on home soil by Tuesday and post almost 5,000 extra police officers to protect Jewish sites after the killing of 17 people by Islamist militants in Paris last week, officials said.
Speaking a day after the biggest French public demonstration ever recorded, in honour of the victims, Defence Minister Jean-Yves Le Drian said the country remained at risk of further attacks. Soldiers would guard transport hubs, tourism sites and key buildings and mount general street patrols.
"The threats remain and we have to protect ourselves from them. It is an internal operation that will mobilise almost as many men as we have in our overseas operations," Le Drian told reporters after a cabinet meeting.
The victims, including journalists and police, died in three days of violence that began on Wednesday with an attack on the satirical newspaper Charlie Hebdo, known for mocking Islam and other religions. Many at Sunday's march wore badges and carried placards declaring "Je suis Charlie" ("I Am Charlie").
The Charlie Hebdo gunmen, two French-born brothers of Algerian origin, singled out the weekly for its publication of cartoons depicting and ridiculing the Prophet Mohammad.
Charlie Hebdo's remaining members are working on an eight-page issue due to come out on Wednesday with a one-million copy print run. Its lawyer, Richard Malka, told France Info radio there would be caricatures of the Prophet Mohammad.
"We will not give in. The spirit of 'I am Charlie' means the right to blaspheme," he said, adding that the front page would be released on Monday evening.