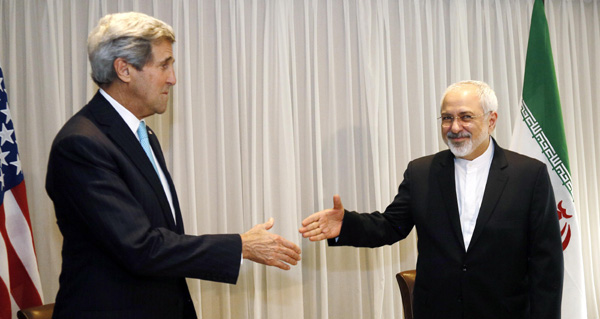 US Secretary of State John Kerry shakes hands with Iranian Foreign Minister Mohammad Javad Zarif before a meeting in Geneva January 14, 2015. [Photo/Agencies]
WASHINGTON - Washington would not link nuclear talks with Iran to the release of Americans from Iranian prisons, the US State Department reiterated Thursday.
Echoing earlier remarks by White House spokesman Josh Earnest, who dismissed connections between the two issues, State Department deputy spokeswoman Marie Harf said that Washington would not draw American prisoners, including a Washington Post journalist, into Iranian nuclear talks.
"We don't want to link the two. We don't want the Iranians to link the two," said Harf, stressing that Washington would handle the two issues separately.
Earnest said on Thursday that although the White House insisted American citizens be released from Iranian prisons, it raised the issue to the Iranians "on separate tracks."
US and Iranian negotiators on Thursday began their three-day talks on Tehran's nuclear program. The bilateral engagements would be immediately followed by talks between Iran and the six world powers of Britain, China, France, Germany, Russia, and the United States.
Iran and the six countries have so far failed to reach a comprehensive deal, under which Tehran would suspend its nuclear program while the West would loosen economic sanctions.