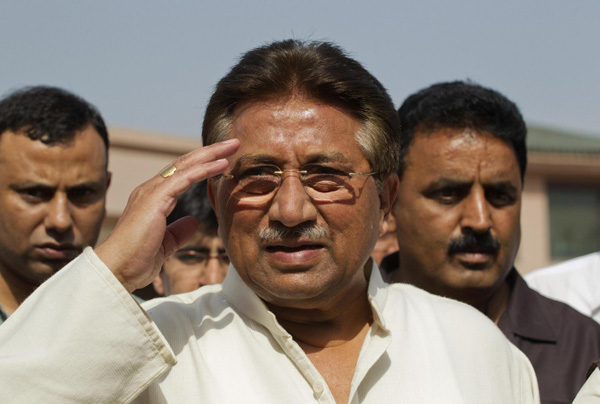 Pakistan's former President and head of the All Pakistan Muslim League (APML) political party Pervez Musharraf salutes at his residence in Islamabad in this April 15, 2013 file photo. [Photo/Agencies]
ISLAMABAD - An anti-terrorism court in Pakistan on Wednesday indicted former President Pervez Musharraf in the killing of a senior tribal elder, lawyers said.
Musharraf has been charged in the murder of Nawab Akber Bugti, who was killed in a raid by security forces in southwestern Balochistan province in 2006.
The former president did not appear in the court in Quetta, the provincial capital, when the judge read out the charges. Musharraf 's defense lawyers told the court that their clients could not come due to health condition.
The court decided to start hearing of the case on day-to-day basis from Feb 4, ordering Musharraf to appear on the next hearing.
Former Interior Minister Aftab Sherpao and then provincial home minister, Mir Shoaib Nowsherwani, who are also accused in the case, were formally charged.
Musharraf has not appeared in the Bugti murder case last hearings despite court's order.
The former president is also facing several other cases including high treason for abrogating the constitution when he had imposed emergency rule in 2007 and the assassination of former Premier Benazir Bhutto.
Musharraf, who seized power in a coup in 1999 and resigned in August 2008 to avoid impeachment by the parliament, denied all charges and vowed to defend himself in courts.
He returned to Pakistan in 2013 after over four years of self- imposed exile in Britain and the UAE to lead his All Pakistan Muslim League in the May 11 parliamentary elections. Courts had, however, disqualified him for holding any public office.