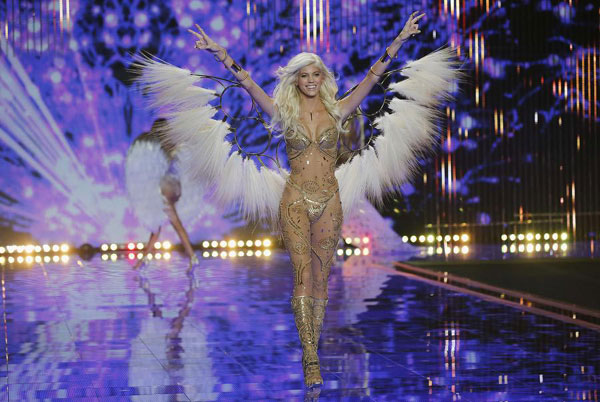 A model presents a creation at the 2014 Victoria's Secret Fashion Show in London December 2, 2014. [Photo/Agencies]
Victoria's Secret officially entered the Chinese market this week, but the US company famous for its lingerie will focus on selling beauty products.
The first official Victoria's Secret Beauty and Accessories stores opened Monday in Shanghai's Raffles City, Shenzhen's Yitian Holiday Plaza and Guangzhou's Taikoo Hui.
Five more stores will open in Chongqing, Guangzhou and Chengdu later this month, parent company L Brands wrote in an e-mail to China Daily on Tuesday.
"These stores will focus on an iconic, fashion-forward range of beauty products and accessories designed for the modern jet-setter," L Brands said in a statement. "Beauty shoppers will find fragrances like the FiFi Award-winning Victoria's Secret Bombshell and VS Angel, and perennial favorites like the most-loved VS Fantasies. … These stores will also feature a unique collection of luxury accessories, including cosmetic cases, bags, small leather goods and luggage.
"We look forward to entering this important global market to enable consumers to buy and experience our products and services through authorized channels," the Columbus, Ohio-based company said.
Saleswomen at the Victoria's Secret stores in Shanghai and Shenzhen said that the stores sell panties but not bras, and declined to explain why. One of the salesclerks hinted it could be a training issue.
"I do not have inside information about Victoria's Secret's thinking, but I would guess that, if the Chinese government would allow the importation of apparel that is not produced in China, then brands would create retail space for lingerie as well," said Ilse Metchek, president of the California Fashion Association. "The issue is usually about trade policies."
It is not easy for US designer brands to enter the Chinese market, as the Chinese distribution systems differ from Western supply chains.
"Retailing in the US and Europe is mainly based on multibrand retailers like Macy's and Bloomingdale's," Metchek said. "In China, stores only show the brand names of the stores themselves, not the individual designer brands."
"The West must come to terms with China's method in order to be successful," said Metcheck, who sees a "big future" for Victoria's Secret in China.