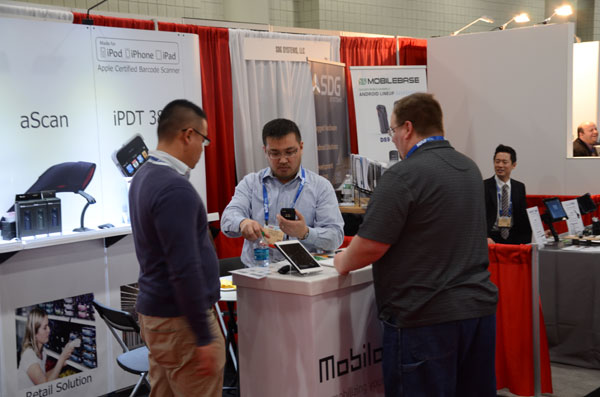 Albert Wang (center), director of North America sales of Mobilogics, demonstrates how his barcode scanner could connect with an iPhone on Monday at the National Retail Federation (NRF)'s Annual Convention & EXPO in New York. Lu Huiquan / For China Daily
A small but increasing number of Chinese businesses are seeking opportunities for overseas expansion at the National Retail Federation (NRF)'s Annual Convention & EXPO in New York City.
"An exhibition is a place where your clients could come to your place, shake hands and talk about what new products you have," said Albert Wang, director of North America sales of Mobilogics, a Kaohsiung, Taiwan-based company that makes barcode readers and other hardware connected with Apple devices. He has been at the NRF for three consecutive years.
The international exhibition serves the goal of Chinese businesses to build an international outreach. Nearly 600 companies joined this year's Big Show. Only around a dozen are from the Chinese mainland, but the number is increasing."We do see more exhibitors from China this year," said Wang.
The Annual Convention & Expo, nicknamedthe "Big Show", has been the flagship event of the NRF since 1911, and it is "still the place - the only place - where you can see and experience all things retail", according to the NRF's website. This year's Big Show started on Sunday. The Expo closed on Tuesday, while the convention continued through Wednesday.
Thousands of businesses and professionals around the world exchange ideas and seek partnerships in all aspects of the retail industry, from receipt printers to human resource database management.
"Everyone is talking about expanding business out of China,"said Helen Chen, managing director of E-line Solutions, a Shanghai-based company providing traffic monitoring, in-store analytics and other services to retail stores. "The competition in China is getting more severe, but we do have good products with a high quality but sold at a low price."
The overseas potential is large, said Willa Wang, marketing director of HPRT, a company based in Xiamen, Fujian province, which makes printers for retail businesses.
"The United States is one of the largest markets in my field," said Wang. "From this event, we can tap into the United States and even Canada."
Wang told China Daily that coming to the event was more of an experiment to see what the North American market was like, as most of her international clients are from Europe.
Compared with international giants like Microsoft, Samsung, Oracle or Adobe, which have fancy product line-ups, larger space and advertisements at main entrances, these Chinese exhibitors are relatively small. Most of them only have a small booth, a display of a few products, a table and a few chairs.
But nationality or size doesn't seem a big issue. Carmen Paraschiv came "just for the new technology"."Really to see something out of the ordinary and something new,"she said, adding that she had worked with companies from South Korea and China before, and working with companies from different countries was "interesting".
"I cannot say we have achieved a lot," Wang said, "but it is not bad after all. We have talked with several prospective customers already."
Lu Huiquan in New York contributed to this story.