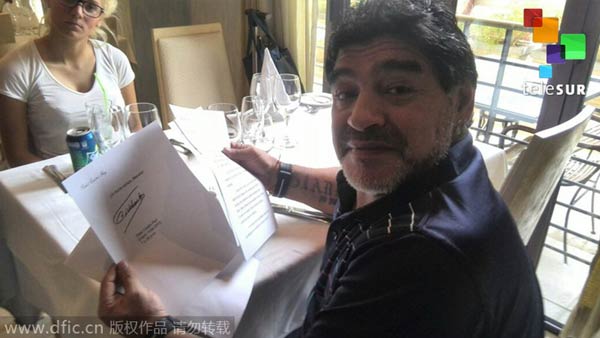 Maradona reads the letter he received from former Cuban leader Fidel Castro which congratulates Maradona for his Telesur TV program, Jan 12, 2015. [Photo/IC]
CARACAS - Fidel Castro sent a letter to Diego Maradona, Venezuelan-based TV reported in an interview with the Argentine soccer great on Monday, quashing rumors that the former Cuban leader had died.
The elder Castro had not been heard from nor seen in public since his brother Raul's historic US-Cuba rapprochement last month, and the silence has re-ignited speculation about his health.
"Fidel is doing very well," Maradona told the regional Telesur station, as he held up the letter. "Here's the signature ... I'm showing it to you so you can show it to the world."
Chatter about his demise has dogged Castro periodically since the 1959 Cuban revolution, but became more frequent in recent years because of health problems that forced him to step down from power in favor of his younger brother.
The last public word from Fidel Castro was an Oct. 17 column in state media.