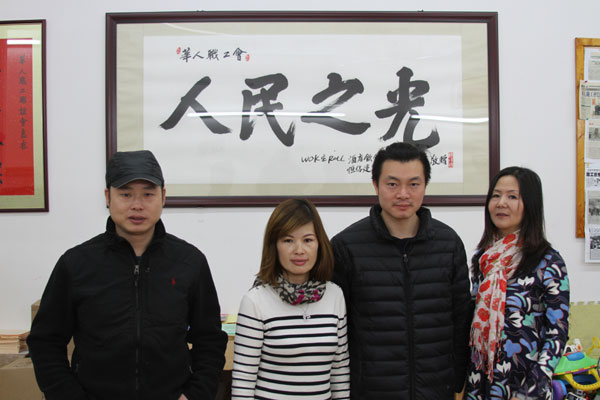 Employees from the Grand Sichuan restaurant in New York who are protesting against mistreatment from restaurant's employers. The restaurant withheld wages and tips and failed to pay the workers minimum or overtime wages, they said. From left: Lin Zhanghui, former deliveryman at the restaurant; Xiao Fang, former busgirl; Vincent Cao, organizer at the Chinese Staff and Workers' Association that is working with employees from the restaurant to file a labor complaint; Tang Xue Qin, a current employee who has not gone to work since the protests began last week. Amy He / China Daily.
Another Chinese-owned restaurant in New York City is facing complaints of unfair treatment, underpayments and withholding of compensation.
Workers at the Grand Sichuan restaurant in Manhattan's East Village have accused the restaurant of failing to pay its employees minimum wage and overtime. The restaurant was also taking from the workers' tips, the employees claimed.
"This is money that we've earned that they took from us, and they can't do that,"said Xiao Fang, one of four employees who have filed an official charge with the National Labor Relations Board.
The restaurant's management declined to comment in two attempts made by China Daily. Grand Sichuan is one of seven restaurants in the New York area owned by Zhang Xiaotu and Gao Wenyan.
Xiao, 38, began working at Grand Sichuan as a bus girl in 2008, shortly after immigrating to the US. Xiao said she worked 70-hour weeks and was paid for 40 hours.
Newer immigrants and even older immigrants who had limited command of English often worked for $300 to $700 monthly wages, according to Vincent Cao, an organizer at the Chinese Staff and Workers' Association, an advocacy non-profit organization that helps workers from all trades fight unfair labor practices. The organization is assisting the employees from Grand Sichuan in its challenge of the restaurant.
"These workers are told that if they didn't want these jobs, there would be plenty of other people who were willing to work for those wages,"Cao said. "So what are the immigrants supposed to do? They just work for those terrible wages."
Xiao also has filed a civil suit against the restaurant to try to get paid all of the wages she's owed. She said she doesn't know the sum, something her lawyer will try to calculate for her.
"I'm not even really sure how much I'm owed, because I don't know what wages I was supposed to be getting paid in the first place,"she said. "I didn't know how much of my earned tips were being taken away from me."
Xiao was fired from the restaurant in December.
Another worker, Lin Zhanghui, worked as a deliveryman starting in 2007. He brought an official complaint against the restaurant in 2012, and was paid back a portion of his owed wages, after which he returned to work at the restaurant.
"After we filed that complaint though, we were treated differently,"Lin told China Daily. As a retaliatory measure, Lin said he was given work that prevented him from earning more tips.
Deliverymen were supposed to deliver orders in the order that they were received, but after Lin began working again after filing the complaint, larger orders that would yield better tips were taken from him, and he was being left smaller orders.
He was also being sent to distant locations, which increased his delivery times and provided him with less opportunity to deliver orders, he said. Lin was fired last month for complaining about his treatment.
All of the workers who are part of the complaint — and those filing lawsuits — still want to return to Grand Sichuan after the case is over.
"We get asked that question a lot, because it doesn't make sense that workers who file complaints against an establishment would want to go back to work there,"Cao said. "But the fact is that these workers worked really hard to influence any kind of change, so to start all over at another restaurant — which might have equal or worse conditions — is not ideal. These workers don't mind the work; they just want a fair share of what belongs to them."
Saigon Grill, a Vietnamese restaurant run by Chinese owners employing a large number of Chinese immigrant workers, was the site of long-running protests by Chinese workers who complained of mistreatment. One of its two locations in New York City was shuttered in 2013 without explanation.
"In many restaurants, employers inside the Chinese community, they know if you cross the line to be too abusive, there will be strikes and there will be sympathies"for the workers, said Peter Kwong, professor of Asian-American studies and urban affairs at Hunter College in New York.
"When you're in the Chinese community, particularly in the working-class Chinese community, everybody has people in their family working for restaurants,"he said. "These strikes have not eradicated the abuses, but certainly make a check on the most extreme abuses."
amyhe@chinadailyusa.com