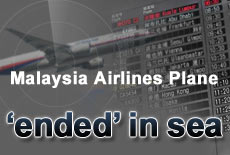 SYDNEY - An underwater audio recording that sounds like a plane crashing in the Indian Ocean could be linked to missing Malaysia Airlines Flight 370.
Researchers from Curtin University in Perth have been examining records from underwater listening devices to help find the aircraft. The devices are designed to listen to whales and other marine life and detect signs of underwater nuclear explosions.
"One signal has been detected on several receivers that could be related to the crash,"Alec Duncan with the university's Centre for Marine Science and Technology (CMST) told CNN on Wednesday.
Duncan said researchers have been analysing the very low frequency sound for weeks to see if it was the impact of the aircraft on the water or the implosion of parts of the aircraft as it sank.
"But (the source of the noise) is just as likely to be a natural event."
The researchers believe the sound came from an area thousands of kilometers to the northwest of the current search area.
"At the moment (the sound) appears to be inconsistent with other data about the aircraft position,"Duncan said.
The new audio data is being passed onto Australian authorities in charge of the search.