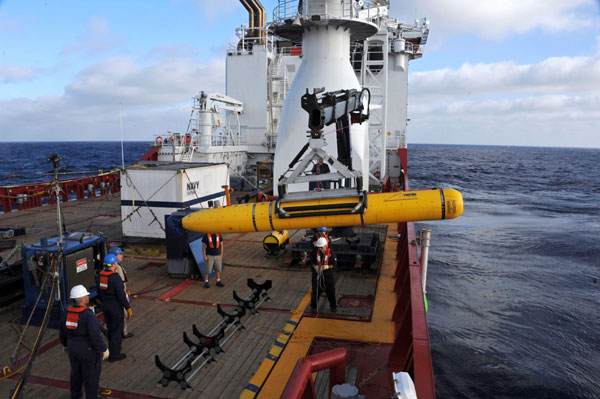 Crew aboard the Australian Defence Vessel Ocean Shield move the US Navy's Bluefin-21 into position for deployment in the southern Indian Ocean April 14, 2014 to look for the missing Malaysian Airlines flight MH370 in this picture released by the US Navy. Australia's deputy prime minister on May 29, 2014 said officials remained confident the missing Malaysia Airlines jet is somewhere in southern Indian Ocean despite searchers saying wreckage was not on the seabed in the area they had identified.[Photo/Agencies]
SYDNEY - The location of flight MH370 is still a mystery after Australian authorities on Thursday dismissed an area considered the most likely zone where the missing plane had landed.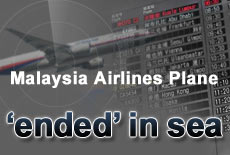 An area in the Indian Ocean had been the prime search target because of the detection of acoustic pings believed to be from the plane's black box.
But the Australian Transport Safety Bureau said in a statement that the search of the area had finished and it was not believed that MH370 was in that zone.
The statement follows comments by a US Navy official on CNN on Thursday that the pings had not come from the plane's data or cockpit voice recorders but from a man-made source unrelated to the missing aircraft.
Michael Dean, the Navy's deputy director of ocean engineering, said the pings had most likely come from a vessel.
"Our best theory at this point is that (the pings were) likely some sound produced by the ship ... or within the electronics of the Towed Pinger Locator," Dean said.
The US Navy later dismissed Dean's comments as "speculative and premature" -- but this was before the ATSB's announcement.
The Joint Agency of Coordination Center (JACC) for the search of the missing Malaysian airline flight MH370 also announced that about 850 square kilometers of ocean floor searched by the autonomous underwater vehicle Bluefin-21 can now be discounted as the final resting place of the ill-fated aircraft.
JACC said in a press release on Thursday that Bluefin-21 completed its last mission on Wednesday afternoon. The autonomous vehicle has been searching areas defined by four acoustic signals detected in early April by the Towed Pinger Locator deployed from Australian naval ship Ocean Shield.
Those four pings were thought to come from the "black box" of the Malaysian aircraft.
The data collected by Bluefin-21 on its mission on Wednesday has been analyzed and no signs of aircraft debris have been found by the autonomous underwater vehicle since it joined the search effort in mid April.
So far, Bluefin-21 has searched over 850 square kilometers of the ocean floor. Ocean Shield departed the search area Wednesday night and is expected to arrive at Fleet Base West on Saturday.
The Malaysian Airlines flight, with 239 passengers and crew on board, disappeared on March 8 on a flight from Kuala Lumpur to Beijing.