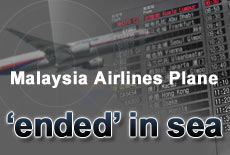 British satellite telecom company Inmarsat said it only played a contributing role in the Malaysia Airlines Flight MH370 investigation, despite the Malaysian government's announcement that a final conclusion was drawn from Inmarsat data.
Jonathan Sinnatt, a spokesperson for Inmarsat, told China Daily that the Malaysian government may have drawn its own conclusions about MH370 having ended in the Southern Indian Ocean based on Inmarsat data and other information.
"We provide our information to the Malaysians, and they combine that with all the other information which they have, which we wouldn't know about, and then they draw their conclusions from that and make their own announcements on that basis," Sinnatt said.
"We aren't a party to what the Malaysians announced, that's up to them, because they see the full picture. We just contribute one set of information."
The information Inmarsat shared with the Malaysian government through the UK Air Accidents Investigation Branch on Sunday showed that MH370 was likely to have been over the southern Indian Ocean when it stopped flying.
On Monday, Malaysian Prime Minister Najib Razak announced that the plane had ended in the southern Indian Ocean, with no survivors. "Based on their new analysis, Inmarsat and the UK Air Accidents Investigation Branch have concluded that MH370 flew along the southern corridor, and that its last position was in the middle of the Indian Ocean, west of Perth," Najib said.
Inmarsat is reluctant to admit such a conclusion could be drawn solely from its data.
"Inmarsat can't say what the reasoning was for the announcement they've made. On Sunday we provided the information, and on Monday an announcement was made by the Malaysian Prime Minister, but I don't know what other information they might have had, which might have been combined with our new analysis," Sinnatt said.
Mark Franklin, a partner at the law firm DLA Piper who specializes in aviation law, said the Malaysian government is unwise to have drawn a conclusion based on Inmarsat data which Inmarsat itself is unwilling to draw.
"It's possible that (the Malaysian government) have taken information (from Inmarsat) and that's the sole source of information they have about location, and they've made a conclusion about the information which Inmarsat itself wasn't willing to make," Franklin said.
Franklin said the Malaysian government has no legal obligation to release the Inmarsat statistics into the public domain upon receiving it, although there is no legal framework that prevents it from doing so either.
However, he said, the Malaysian government's approach of making announcements as new information is received is dangerous, because further investigation into additional possibilities may possibly contradict conclusions drawn.
"The official investigator in Malaysia is not required to give a blow by blow account to the media of their activities. And, in fact, they shouldn't really be doing that, because accident investigation is a very meticulous process and if you do it by the book you have to go through all sorts of avenues," Franklin said.
He said some of those avenues may turn out to be "dead ends", which means they do not provide meaningful information to the investigation, but they are required to be performed to make the investigation comprehensive, and that is the way to know the conclusion is absolutely correct.
"So my personal view is that the Malaysian government has perhaps created some of these problems for themselves in terms of how they selected pieces of information to disclose and how they select other pieces of information which they don't think they should disclose."
"And their best policy may be either to disclose everything or disclose nothing. But by taking the middle ground, they've created a suspicion that either they are incompetent or that they are deliberately being secretive about pieces of information that are really relevant," he said.