Hopes of families of the Indians traveling on the missing plane MH370 were dashed on Monday after Malaysia declared that there was no hope of survivors.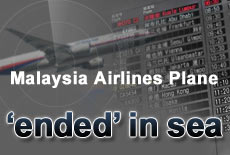 Full Coverage
Malaysian Prime Minister Najib Razak announced at a late-evening press conference that the Boeing 777 jet was effectively lost in the southern Indian Ocean, and the government does not believe any of the 239 passengers and crew members to have survived.
Some of the relatives and friends of the five Indians told media that they heard the news through TV and nobody from either the airline or the Malaysian government made an effort to contact them in person.
KS Narendran, whose 51-year-old wife Chandrika Sharma was on the ill-fated aircraft, told a news agency that all he received was a text message from the company. Sharma was on her way to Mongolia to participate in a conference.
Satish Shirsath, whose sister-in-law was among the passengers, told The Wall Street Journal that no official had been in touch with him or the family.
"We don't know how to react to this news," said Shirsath. "The children are speechless. It's so tragic that we still can't believe it," he was quoted as saying by the Journal. His sister-in-law, 44-year-old Kranti Shirsath, was flying to North Korea via Beijing to join her husband, Pralhad, who works there for a non-governmental organization. They have two sons in grade school, according to the newspaper.
The other three Indians on the plane belong to a single family: Vinod Kolekar, 59; his wife, Chetna, 55; and their son Swanand.
A friend of Kolekars was quoted as saying that since the authorities have not found the plane he was hopeful that they could still be safe. A neighbor of the family in Mumbai told the WSJ that he is still hoping that it was a hijack, not a fatal crash.