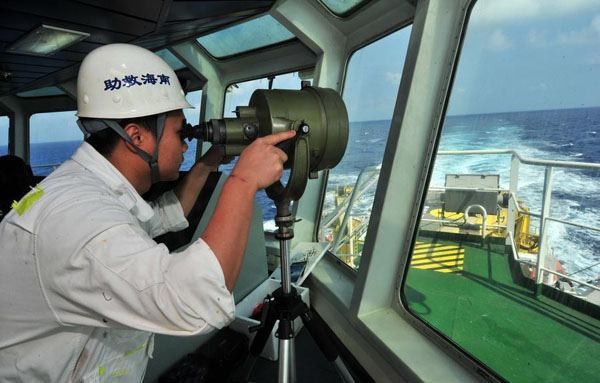 A crew member of the rescue vessel "South China Sea Rescue 101" checks equipment in this photo taken on March 10. The vessel is expected to arrive in the search area on Tuesday, and take part in a multinational operation to find the missing Malaysia Airlines aircraft, which was carrying 12 crew members and 227 passengers, including 154 Chinese nationals.[Photo/Xinhua]
BEIJING - China has been making all-out efforts to search for the Malaysia Airlines flight MH370 with almost two-thirds of the passengers from China after more than 60 hours since it lost contact.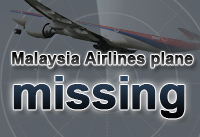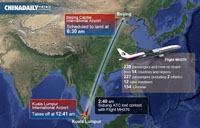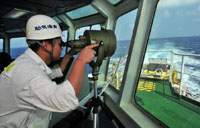 The search range of the six ships involved in the rescue efforts has been clarified, according to He Jianzhong, chief of China's Maritime Search and Rescue Center and vice minister of transport.
Chinese warship Mianyang and a marine police vessel with hull number 3411 have begun searching the sea where the Beijing-bound MH370 flight from Kuala Lumpur might have lost contact, he said.
He said that three more patrol and rescue vessels under the command of the transport ministry are expected to arrive in the area on Monday and Tuesday. Their hull numbers are 115, 31 and 101.
As of 10 p.m. Tuesday, the rescue forces from China will increase to a total of six vessels and three helicopters on the target area, said Zhuo Li, deputy director with the China Marine Search and Rescue Center (CMSRC) of the Ministry of Transport.
He said that China's maritime search and rescue forces will keep in close contact and cooperate with Malaysian and Vietnamese search forces. China will also mobilize merchant ships to assist with the search.
On Monday night, a working group with 13 members composed of officials with the Ministry of Foreign Affairs, Ministry of Public Security, Ministry of Transport and Civil Aviation Administration of China (CAAC) has arrived at Malaysia for handling the aftermath of the missing Malaysian Airlines flight.

Guo Shaochun, deputy head of the Department of Consular Affairs with China's Foreign Ministry, said at the airport that the group will start working immediately.
"We will call on the Malaysian side and other foreign parties involved in the rescue work to work together with Chinese planes and ships, to intensify research and rescue efforts, strengthen coordination and not to give up only if there is any hope," Guo said earlier.
He also said the working group planned to coordinate with Malaysia and other countries to investigate the incident.