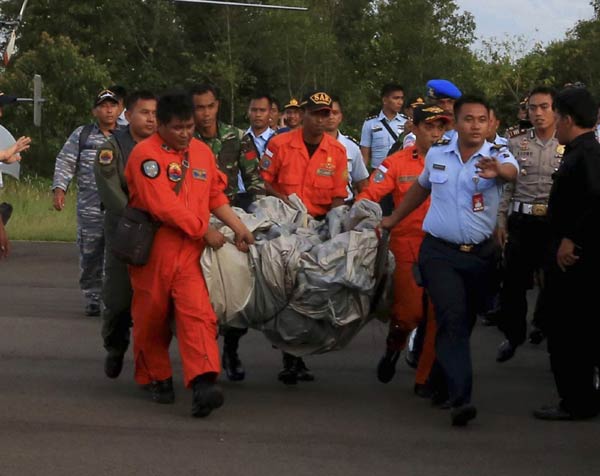 Members of the Search and Rescue Agency SARS carry debris recovered from the sea presumed from missing Indonesia AirAsia flight QZ 8501 at Pangkalan Bun, Central Kalimantan, December 30, 2014 in this photo taken by Antara Foto. [Photo/Agencies]
SURABAYA, Indonesia/JAKARTA - Ships and planes resumed the search for wreckage, bodies and black boxes of a doomed AirAsia plane on Wednesday after Indonesian rescuers found several bodies and debris floating in shallow waters off the coast of Borneo.
However, 2-3 metres (6-9 ft) waves and winds prevented divers from searching the crash zone for the sunken remains of Flight QZ8501, which had 162 people on board when it vanished on Sunday about 40 minutes into its flight from the Indonesian city of Surabaya to Singapore.
Aviation experts believe that, weather permitting, the fuselage may be easily found by divers as the aircraft probably only broke up when it hit the water.
Searchers found three bodies on Wednesday morning, including a flight attendant still wearing her AirAsia uniform, bringing the total to six so far, said the head of the search and rescue agency, Fransiskus Bambang Soelistyo.
Fully clothed bodies could also indicate the plane was intact when it hit the water and support a theory that the Airbus A320-200 suffered an aerodynamic stall and plunged into the sea.
"The fact that the debris appears fairly contained suggests the aircraft broke up when it hit the water, rather than in the air," said Neil Hansford, a former pilot and chairman of consultancy firm Strategic Aviation Solutions.
Indonesia AirAsia Flight QZ8501 lost contact with air traffic control early on Sunday during bad weather on a flight from the Indonesian city of Surabaya to Singapore.
The Airbus A320-200 was carrying 162 people, mostly Indonesians. No survivors have been found.
Indonesian President Joko Widodo said his priority was getting bodies off the bottom of the Karimata Strait in the Java Sea, where rescuers retrieved a plane door and other debris on Tuesday, so victims could be identified.
"I feel a deep loss over this disaster and pray for the families to be given fortitude and strength," Widodo said in Surabaya on Tuesday after grim images of the scene in the Java Sea were broadcast on television.