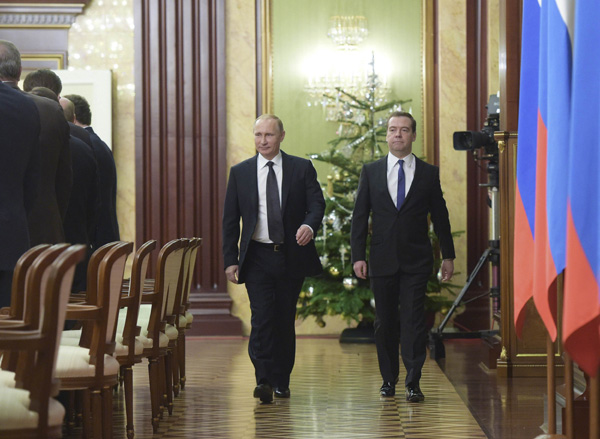 Russian President Vladimir Putin (L) and Prime Minister Dmitry Medvedev attend a meeting with members of the government in Moscow, December 25, 2014. [Photo/Agencies]
MOSCOW - Russian President Vladimir Putin on Thursday blamed the government for the current economic difficulties.
"(The difficulties) are not solely tied to some sorts of external limitations brought by sanctions or the overall international environment, they are tied to unattended defects that have accumulated over the years," Putin said during a government meeting.
Putin scrapped New Year's holidays for government ministers because of the unfolding economic crisis.
Although efforts have been taken in order to change the Russian economic structure into an innovative one, more should be done to meet the high demand of businesses, he said.
The president especially named the fulfillment of social commitments and the stabilization of the currency as priorities for the Russian government.
It is necessary to ensure the functioning of vital infrastructure, transportation, communications and power grids, especially during the holiday season and the entire winter period, Interfax quoted Putin as saying.
At an annual end-of-year press conference, Putin called for more government work to coordinate with the Central Bank on economic and currency strategies, adding that it would take at most two years for the Russian economy to rebound in a worst-case scenario.