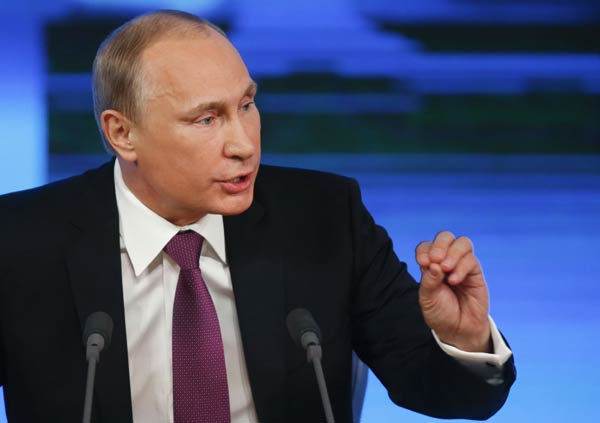 Russian President Vladimir Putin speaks during his annual end-of-year news conference in Moscow, December 18, 2014. Putin criticised NATO's eastward expansion following the fall of the Berlin Wall. [Photo/Agencies]
MOSCOW -- Russia would take appropriate retaliatory measures against NATO's possible eastward expansion, Foreign Ministry spokesman Alexander Lukashevich said Thursday.
"I'd stress that the NATO's possible further enlargement eastward would inevitably lead to a very serious military- political shift not only in Europe but also around the world," Lukashevich told reporters.
This would directly affect Russia's national security interests, prompting necessary and appropriate reactions from the country, Lukashevich added.
Moreover, the spokesman warned that the trend of pro-West and anti-Russia attitudes in Kiev authorities could further complicate the bilateral relations between Ukraine and Russia.
"Cooperation in such fields as economy and energy would be obstructed," Lukashevich said.
Moscow is also perplexed by the fact that the abolishment of Ukraine's non-aligned status came right at the moment when positive trends have taken place to settle the Ukraine crisis, Interfax news agency quoted Lukashevich as saying.