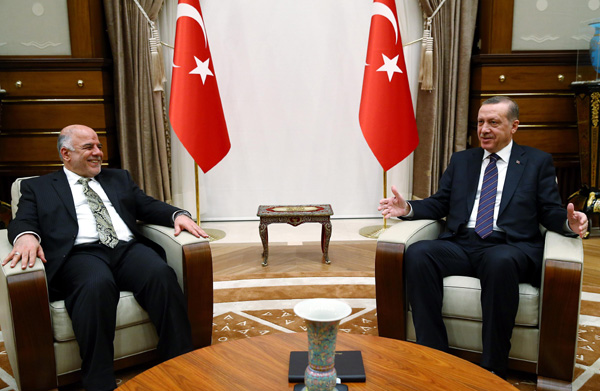 Iraqi Prime Minister Haider al-Abadi meets with Turkey's President Tayyip Erdogan (R) at the Presidential palace in Ankara December 25, 2014. [Photo/Agencies]
ANKARA - Iraqi Prime Minister Haider al-Abadi's visit to Turkey on Thursday aimed to strengthen recent efforts to normalize ties between the two neighbors that were long at odds over several issues, including Turkey's independent energy ties with Iraq's autonomous Kurdistan region.
Al-Abadi said Iraq wants to deepen bilateral ties in economy, politics, trade, security and military areas, adding that Baghdad wants to export Iraqi oil to world markets through Turkey.
"The improvement of our bilateral relations is not only to the interests of Turkey and Iraq but also in the interests of our region," he said.
This is the Iraqi prime minister's first visit to Turkey since he assumed the office in September. The visit was a follow-up to long-stalled High Level Council meetings that was established in 2009 as part of intergovernmental conference.
Al-Abadi was accompanied with several ministers during his visit to Turkey.
"The visit is important in terms of putting relations between the two neighbors back on track because there are common challenges that require close cooperation," Mehmet Seyfettin Erol,
professor of international relations at Ankara-based Gazi University, told Xinhua.
"Both countries need to work together against the Islamic State (IS) and other terrorist threats in the region," he underlined.
Turkish Foreign Minister Mevlut Cavusoglu said on Thursday that the tensions between Iraq and Turkey are now over following the establishment of the new inclusive Iraqi government.
The Turkish foreign minister blamed the problems to Abadi's predecessor Nouri al-Maliki whom he acused of running the country based on sectarian lines.
"Maliki's government always saw issues from a religious point of view," he said.
Cavusoglu described Abadi's government as inclusive with various ethnic and religious make-up.