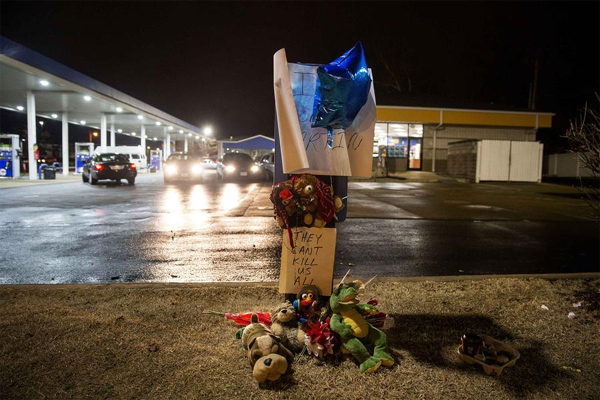 A memorial is set up at the scene where a policeman fatally shot a black man at a suburban St. Louis gas station in Berkeley, Missouri, December 24, 2014. [Photo/Agencies]
About 90 seconds later, one appears to raise his arm, though it's difficult to see what he's holding because they were several feet from the camera. Belmar said it was a 9mm handgun with one round in the chamber and five more in the magazine.
Police were searching Wednesday for the other man, who ran away.
Belmar said Martin had a criminal record that included three assault charges, plus charges of armed robbery, armed criminal action and unlawful use of a weapon.
Phone messages left for his parents were not returned. His mother, Toni Martin-Green, told the St. Louis Post-Dispatch that Antonio was the oldest of four children.
"He's like any other kid who had dreams or hopes," she said. "We loved being around him. He'd push a smile out of you."
This was the third fatal shooting of a young black man by a white police officer in the St. Louis area since Brown was killed by Ferguson officer Darren Wilson on Aug 9. Kajieme Powell, 25, was killed Aug 19 after approaching St. Louis officers with a knife. Vonderrit Myers, 18, was fatally shot on Oct 8 after allegedly shooting at a St. Louis officer.
Each killing has led to protests, as did a grand jury's decision last month not to charge Wilson in Brown's death. A crowd quickly gathered late Tuesday in Berkeley. The demonstration involving about 300 people turned violent.
More than 50 police officers responded to protests Tuesday. Belmar said officers used pepper spray but not tear gas. Four people were arrested on charges of assaulting officers.