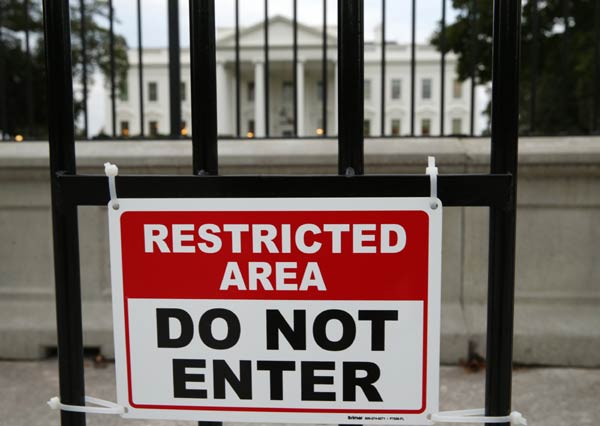 A sign is posted on a fence outside the White House in Washington in this October 23, 2014 file photo. [Photo/Agencies]
WASHINGTON -- The US Secret Service is "starved for leadership" and needs to improve training after upgrading the White House fence, an independent panel said in its Thursday review.
The review revealed deep problems of the Secret Service, including "too insular". The panel also has been told by many Secret Service members that the leadership needs to be strengthened.
Homeland Security Secretary Jeh Johnson appointed an independent panel in October after an intruder climbed the fence and made it into the White House.
"The panel believes strongly that the fence around the White House needs to be changed as soon as possible to provide better protection,"the review said. It recommends to increase the fence height by four or five feet and "curves outward at the top to give agents more time to assess the risk of a jumper."
However, the review also noted that the agency's problems "go deeper than a few fence can fix."
An outsider who is not tied to agency traditions and personal relationships is more suitable to chair the Secret Service, the review said.
The last Secret Service director Julia Pierson resigned under fierce criticism on Oct. 1, after the Sept. 19 White House intrusion.
The agency's training regimen is far below acceptable levels, it said. The average special agent receiving only 42 hours of training.
Johnson praised "the panel's recommendations are astute, thorough and fair."
Responding to the review, Republican Representative Jason Chaffetz, incoming chairman of the Oversight and Government Reform Committee promised an independent congressional review of the agency.