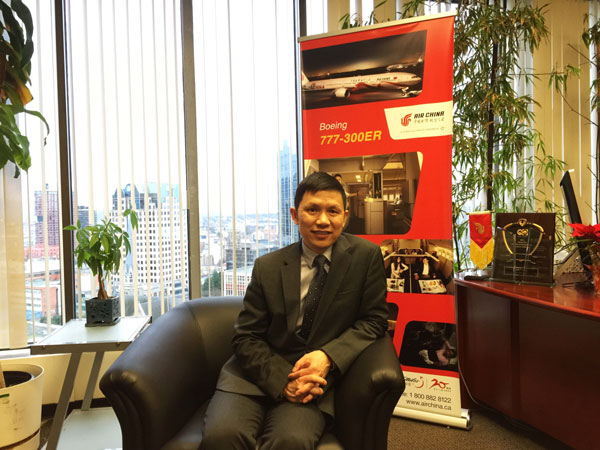 Xu Junhong, General Manager at Air China Canada. [Photo by Danwei Bu/For China Daily]
China and Canada's national airlines, Air China Ltd and Air Canada, are increasing their cooperation.
The two airlines signed a memorandum of understanding (MOU) in Beijing on Nov 8. The MOU defined a comprehensive revenue-sharing joint venture, upon which the two carriers can enhance partnership in sales, marketing and airport operations.
Passengers traveling on China-Canada routes are expected to benefit from more route options, upgraded services and lower prices.
The deal was one of the accomplishments of Canadian Prime Minister Stephen Harper's state visit to China in early November.
The joint venture is expected to start by the end of 2015, after all regulatory approvals are obtained.
"This joint venture between Air China and Air Canada will provide many benefits and commercial synergies on the important and growing market for travel and trade between Canada and China," said Song Zhiyong, president and executive director of Air China Ltd.
The Canada-China air travel market has expanded on average by more than 10 percent annually over the past five years.
"And this trend is expected to remain strong, according to airline industry trade group IATA," Song said.
Air China currently offers its customers codeshare flights operated by Air Canada between Vancouver and six Canadian cities (Edmonton, Calgary, Winnipeg, Toronto, Ottawa and Montreal).
Air Canada has codeshare flights with Air China that go between Beijing and six other cities in China (Guangzhou, Chongqing, Chengdu, Shenyang, Wuhan and Xi'an). The two airlines operate 39 weekly international nonstop flights between the two countries.
"By deepening our cooperation in the areas of scheduling and sales management, the carriers will be better able to serve customers by offering more travel options," said Calin Rovinescu, president and chief executive officer of Air Canada.
The core principle of the joint venture, according to Rovinescu, is network growth.
"With an increased number of non-stop flights and transit points, the customers will be able to get the best flight deals and travel more conveniently," said Xu Junhong, general manager at Air China Canada..
"Air China plans to expand its presence in eastern Canada in the near future, so as to better facilitate the flow of goods and people between China and Canada," Xu added.