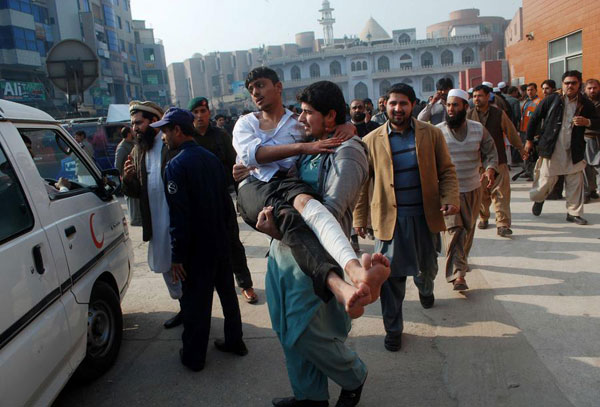 A man carries a student, who was injured during an attack by Taliban gunmen on the Army Public School, after he received treatment at a hospital in Peshawar, Dec 16, 2014. [Photo/Agencies]
ISLAMABAD - A total of 141 people including 132 students and nine staff members were killed and 133 others injured in Tuesday's terror attack at an army-run public school in Pakistan's northwest city of Peshawar, said a spokesman of the Pakistani army.
Asim Saeed Bajwa, Director General of Inter-Services Public Relations, a mouthpiece of the army, told a press conference in Peshawar on Tuesday night that 133 people were also injured in the attack and they include 121 students, three staff members and nine army personnel.
He said the operation against the militants had completed after nearly ten hours of exchange of fire and all the seven militants involved in the attack were killed.
Three militants have so far been killed in exchange of firing with the security forces who have rounded up them inside the school shortly after the attack was reported, said army sources.
Pakistan Taliban have claimed responsibility for the attack.
Pakistani Prime Minister Nawaz Sharif has flown to Peshawar to direct the rescue operation. Army Chief Gen. Raheel Sharif has also cut short a visit to the country's southwest province Balochistan and headed for Peshawar.
Pakistani President Mamnoon Hussain has issued a statement strongly condemning the attack and said such coward attacks cannot deter the resolve and morale of the Pakistani nation to fight against terrorism.
The attack reportedly took place at about 10:30 am (local time) when a group of eight to ten Taliban militants wearing army uniforms launched an attack at an army-run public school in the downtown area of Peshawar. The school offers education mainly for children aged from 9 to 16 from the army families.
By the time when the story is being filed, the exchange of firing between the attackers and the security forces is still going on.