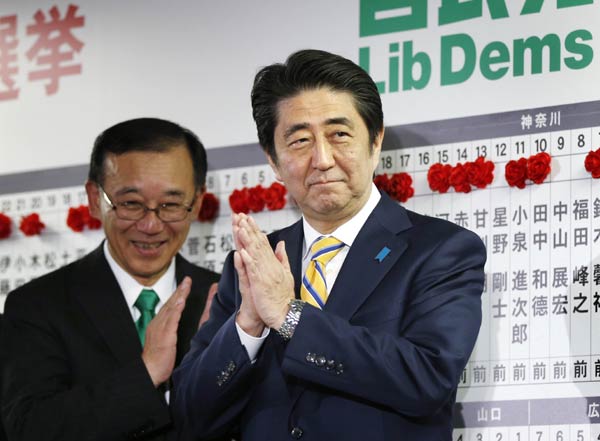 Japan's Prime Minister Shinzo Abe, who is also leader of the ruling Liberal Democratic Party (LDP), claps during an election night event at the LDP headquarters in Tokyo, December 14, 2014. [Photo/Agencies]
TOKYO - Japanese Prime Minister Shinzo Abe's coalition has cruised to a big election win, ensuring he will stick to reflationary economic policies and a muscular security stance, but record low turnout pointed to broad dissatisfaction with his performance.
Abe's Liberal Democratic Party (LDP) and its junior partner, the Komeito party, won 326 seats in Sunday's election, more than the 317 seats in the 475-member lower house required to maintain a two-thirds "super-majority" that smoothes parliamentary business.
The tally was unchanged from the number of seats held by the coalition before the poll. But LDP itself slipped slightly to 291 seats from 295.
"I believe the public approved of two years of our 'Abenomics' policies," Abe said in a televised interview. "But that doesn't mean we can be complacent."
Many voters, doubtful of both the premier's "Abenomics" strategy to end deflation and generate growth and the opposition's ability to do any better, stayed at home.
Turnout was estimated to be a record low of 53.3 percent, substantially below the 59.3 percent in a 2012 poll that returned Abe to power for a rare second term on pledges to reboot an economy plagued by deflation and an ageing, shrinking population.
In a sign of the fragility of Abe's mandate, the LDP won 75 percent of the seats in single-member districts that account for 295 lower house seats with just 48 percent of the vote, data in the Tokyo Shimbun metropolitan newspaper showed.
But with the mainstream opposition still weak, any opposition to Abe's policies will likely come from his allies in the dovish Komeito party, which increased its seats to 35 from 31, and from inside the LDP itself, should the economy falter.
Tokyo's Nikkei share average opened down 1.50 percent on the widely-expected election results after a weak performance by the U.S. stock market on Friday.
Analysts said the outcome would be positive for shares and negative for the yen in the near term given expectations Abe will stick to a "Three Arrows" strategy of hyper-easy monetary policy, government spending and reforms.
"But medium-term, investors will be watching to see if Japan is changed structurally," said Tsuyoshi Ueno, senior economist at NLI Research Institute.
Doubts persist over whether Abe will knuckle down on his "Third Arrow" of reforms in politically sensitive areas such as labour market deregulation and an overhaul of the highly protected farm sector. Media said he was likely to keep his cabinet unchanged.