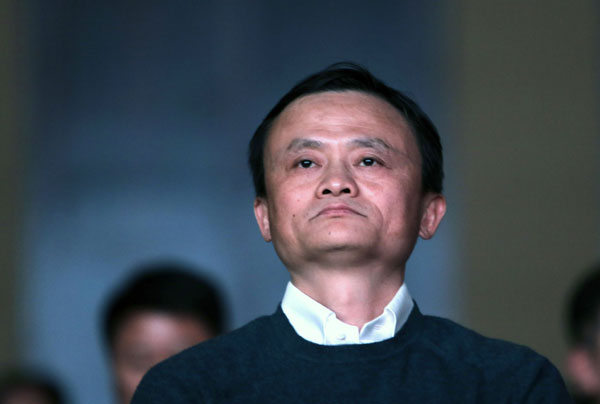 Alibaba Group Executive Chairman Jack Ma attends the Fifth Conference of Zhejiang Chamber of Commerce in Beijing, December 6, 2014. Ma was awarded Honorary Chairman of Zhejiang Chamber of Commerce during the conference. [Photo/Agencies]

Jack Ma, founder and executive chairman of Alibaba Group Holding Ltd, has been nominated by the editors of Time magazine as one of eight finalists for the Person of the Year.
Other nominees include the Ferguson, Missouri, protesters, the Ebola caregivers, Russian President Vladimir Putin, Apple CEO Tim Cook, singer Taylor Swift, NFL commissioner Roger Goodell and Iraqi Kurdish President Masoud Barzani.
Since 1927, the magazine has chosen "the person or persons who most affected the news and our lives, for good or ill, and embodied what was important about the year".
Ma is described by the magazine as "an English teacher-turned founder and CEO of Alibaba, the Chinese e-commerce giant which debuted a $25 billion IPO".
The winner will be announced on NBC's Today show Wednesday, according to Radhika Jones, deputy managing editor of Time.
"This is the year of Alibaba's IPO and the beginning of global expansion for Chinese Internet business models,"said Hans Tung, managing partner at GGV Capital and an early investor in Xiaomi. "It is very exciting,"
Ma grabbed global headlines in September with Alibaba's record-breaking $25 billion IPO, which made him the richest man in China.
"E-commerce will disrupt physical retail worldwide especially in emerging markets like China, India, Indonesia, Brazil, etc,"said Tung.
Alibaba reported more than $9 billion in sales on China's Singles' Day shopping festival on Nov 11.
Ma plays a key role in shaping global e-commerce and making it borderless. In November, a group of high-end US retailers teamed up with Alipay, which will enable online shoppers in China to purchase goods through Alipay's ePass in Yuan. Electric carmaker Tesla and big-box retailer Costco opened flagship online stores on Tmall, one of Alibaba's e-commerce platforms.
Ma also has invested ample cash in US startups.
The company 1stdibs, a New York-based marketplace for luxury goods, was the first investment announced by Alibaba in 2014.
In March, Alibaba invested $215 million in Tango, a California-based messaging and free-calling app company. Alibaba participated in a $250 million round of series D funding for Lyft, a transportation network company in San Francisco, in April.
In June, Alibaba helped finance Peel, a California-based, TV-control app maker. Although the amount of funding was not disclosed, business insiders said that it was more than the previous round, which was about $5 million.
Alibaba in July put $120 million into Kabam, a video-game startup that is now worth more than $1 billion. In October, Alibaba Group partnered with Silicon Valley-based search engine Quixey to power app searches for its mobile operating system YunOS.
"Although Alibaba didn't spend lots of time talking about its investment in the US, the company is quietly finding opportunities to participate in the US market,"said Eric Savitz, partner of Brunswick Group, a US-based public relations firm that supported Alibaba in its IPO filing.
zilian@chinadailyusa.com