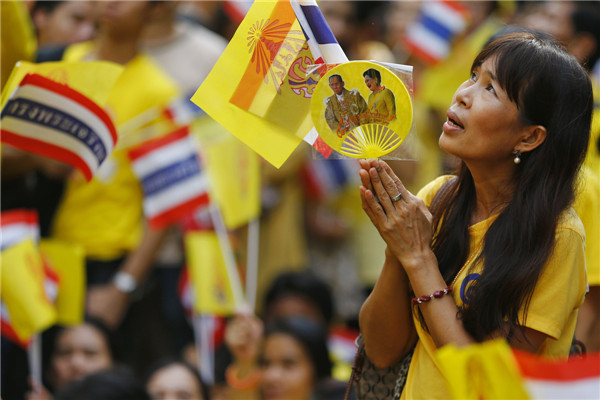 A well-wisher looks toward the building where Thailand's King Bhumibol Adulyadej is residing at Siriraj hospital in Bangkok as people gather there to pray for his health and celebrate his birthday, Dec 5, 2014. Thailand's King Bhumibol Adulyadej cancelled a public appearance on his 87th birthday on Friday on the advice of doctors, disappointing thousands camped outside the hospital hoping for a glimpse of the world's longest-reigning monarch. [Photo/Agencies]
BANGKOK - Thai King Bhumibol Adulyadej on Friday canceled a pre-scheduled public audience on his doctors' advice, which, however, did not damp people's enthusiasm to celebrate his 87th birthday.
The king had planned to grant a public audience at the Amarin Vinitchai Hall inside the Grand Palace in capital Bangkok, but after a medial checkup, doctors suggested that the king should not leave the hospital where he was staying, said an announcement the Royal Household Bureau released earlier in the morning.
According to the original plan, the king and the queen, along with royal family members, would appear at the ceremony at 10: 30 am local time.
Since the wee hours, several thousands people from across the country have crowded Siriraj Hospital, where the king has been under medical treatment for the past two months.
Mostly wearing yellow, symbol of the king, these people have been holding the national and royal flags while singing odes and chanting "Long Live the King," waiting for the king to make an appearance.
Despite the cancellation, a great many well-wishers have also flocked into the Grand Palace, where cabinet members, legislators and prominent military and political figures, including Prime Minister Prayut Chan-o-cha and former premier Yingluck Shinawatra, have signed books of birthday wishes for the king.
A diversity of celebration have also been held nationwide, including blood donation, tree planting, running and bicycling.