Many countries have long way to go to capture significant share of China's booming outbound business
"Nihao!" On entering the City Market or the Masai Market fair in Nairobi, capital of Kenya, anyone with a Chinese appearance hears this Chinese greeting, equivalent to "How are you?", when passing shops and stands.
Some shopkeepers have a broader vocabulary in these markets, often visited by tourists on the hunt for African woodcarvings or other souvenirs. You will hear Zhege (This one); Nage (That one); Duoshaoqian? (How much?); and Pianyi (Cheap).
The Chinese may not be perfect, but it is indicative of the great increase in Chinese traveling to Kenya since it was granted Approved Destination Status for outbound Chinese tourist groups by the Chinese government in 2004.
The number of Chinese tourists visiting Kenya reached 37,000 in 2013. Yet, that is a small fraction of the total number of China's outbound tourists.
Chinese made about 97.3 million outbound trips in 2013, making China the largest outbound tourist market in the world. The number is more than double the 47.7 million of 2009. Also in 2013, Chinese tourists spent $102 billion, the biggest total in the world, in their outbound trips. The two numbers are expected to keep rising.
When visiting China in 2013, Kenyan President Uhuru Kenyatta said the goal of the country's tourism industry is to attract 1.3 million Chinese. Like Kenya, many African countries have also made efforts to attract Chinese tourists. However, it seems that at least some of them do not know yet how to do that.
Though the number of Chinese tourists going to Africa has been affected this year by the Ebola outbreak in West Africa, experts and insiders in the tourism industry are all confident that Chinese numbers will continue to rise in the future, especially for high-end tourists who have been noted as big spenders almost everywhere in the world. Meanwhile, however, it is also clear there are many challenges facing African countries in terms of tourism, factors within both Africa and China.
Because of the outbreak of Ebola, the number of travelers from China to many Africa countries has fallen this year, though the epidemic in the continent has been confined to several countries in West Africa.
Chinese tourists to Zimbabwe in the first six months of this year dropped to 2,730 from about 10,000 in the same period last year, according to the Zimbabwe Tourism Authority.
Tourism to Kenya also declined. The drop, however, was also caused by safety concerns after last year's terrorist attack at the upmarket Westgate shopping mall in Nairobi.
The Kenya Tourism Board says all international arrivals in the first five months of this year decreased from 398,000 last year to 381,000, or 4 percent.
While no official data are available yet to show the change in Chinese tourism in the country, some tour companies in Kenya have complained about losses. "In the peak season this year (from July to September), the number of tourists we received fell about 30 percent," says Hu Xinjian, marketing manager of Longren Tour and Travel.
Zhang Hongtao, director of AA Lodges, who sees a large proportion of customers from China, says: "Since early August, the occupancy rate of our hotels was sometimes as low as 5 percent. Almost all tourist groups canceled their plans to Kenya after August 20."
But Yang Jinsong, a professor specializing in international tourism with the China Tourism Academy, does not think Ebola will greatly damage the tourism market in Africa.
Yang says the data from China's customs shows that Chinese made 1.7 million trips to Africa in the first six months of this year. "It increased about 150 percent compared with the same period last year. Chinese made fewer than 1.8 million trips to Africa last year. The growth is still astonishing."
"Ebola is pretty much confined in West Africa, where Chinese make very few visits. I don't think the epidemic will affect the tourism market in Africa much in the future, " says Yang. "The number of Chinese tourists to Africa will rise, and rise greatly," he adds.
Han Jun, director of Go Africa Travel Ltd, also believes the number of Chinese tourists heading to Africa will keep rising. "There is no possibility of big wars in Africa. Though it's hard to say if there will be a serious epidemic like Ebola in the future, African countries will certainly have countermeasures to prevent the outbreak of similar epidemics with the experience in fighting Ebola."
Han also says he does not think similar epidemics will happen in the primary destinations for Chinese tourists because those areas have stronger prevention mechanisms.
The majority of trips to Africa fit within the budget category. But the proportion of luxury trips is increasing sharply, says Michael Jones, co-founder of Africa Create, a Beijing-based company promoting African hotels, airlines and other tourism-related industries. Jones, from Cape Town, has been working on China's outbound tourism for 13 years.
Typically, a budget trip from China to South Africa costs 10,000 yuan ($1,650) per person, with a lot of shopping stops; but a luxury trip costs 40,000 yuan.
"Premium travelers are much pickier. They are not satisfied with the routine offerings, but look for unique experiences such as wine tasting in Cape Town and remote boutique hotels that are quiet, isolated, and protective of their privacy.
"These guests are usually very international - they have traveled a lot in Europe and North America, and now Africa is another world they want to explore," says Zhang Yan, trade relations director and co-founder of Africa Create.
Hu Xinjian, marketing manager of Longren Travel and Tours, says: "The high-end market has been growing more rapidly than the group tour market.
"High-end travelers are knowledgeable and know a lot about the beautiful scenery they want to visit." Hu adds that about 10 percent of their customers are independent, high-end tourists.
They may compare the prices of different agencies but, with sufficient funds, they never give up on their plans because of cost, says Hu.
Xia Lu, general manager of Kenya China Travel & Tours, says about 5 percent of the tourists entering Kenya are high-end travelers.
"These customers usually come in pairs or with no more than 15 people in their group. They sometimes have four or even five guides, while there is usually one or two for most group travelers. Instead of going to parks by car, they fly. Rather than international chain hotels, they choose private lodges," says Xia.
The price of the lodges can be $1,000 and even up to $2,000 a night for one room shared by adults, and a charter flight with a capacity of up to 12 from the airport in Nairobi to the parks may cost more than $2,000.
Xia says those tourists spend 70,000 yuan to 80,000 yuan on average on their trip, up to four times what is spent by the average group traveler.
While confident of further growth from high-end travelers, Xia says it would be difficult for this sector to exceed more than 10 percent of the total. "The number of super rich is limited," she says.
While continuing to offer services to group travelers, Xia says her company has been preparing to attract more high-end customers.
"We have planned to satisfy the needs of different market sectors," Xia says.
Many high-end and luxury resorts have started to promote their brands in China. Most of the eight resorts that have turned to Africa Create to promote their brands aim at wealthy travelers.
In Kenya, the Safari Collection, Governors' Camp and Loisaba Wilderness are working with Chinese tour companies to promote their luxury services in China.
The Safari Collection runs Giraffe Manor, where animals often visit and poke their necks into the windows of guest rooms hoping for a treat. It costs about $500 per adult per night, sharing a room, on a fully inclusive basis.
The efforts of the tourism industry alone are not enough, Jones says. African governments need to put tourism higher on their priority lists.
Only South Africa, Zimbabwe, Namibia and Morocco have tourism promotion agencies in China. Other countries have not set up any organizations dedicated to attract Chinese tourists.
"They need to shout louder to the Chinese market," Jones says.
Promotion can make a big difference, he says, citing the example of Kenya, which attracts hundreds of thousands of Chinese to watch the migrations of rhinos and other animals every year.
China Central Television carried live broadcasts of the migrations in 2012 and 2013, making them a widely known wonder in China.
"Now Chinese tourists book hotels six months in advance to get a room nearby even when the accommodation price doubles or triples," Zhang says.
Jones says investments in tourism pay off. African governments, he says, "spend money on various exhibitions in China to attract Chinese investors to build local plants, which is a prolonged and tricky task. But attracting tourists is much easier and brings quicker money." He cites a Disney study showing that for every 65 international tourists, one job can be created.
The number of Chinese tourists visiting Kenya for the migration also shows the importance of the "prestige element" among Chinese tourists, given that outbound travel has only recently become accessible to a sizable portion of the population.
"Travelers want to show off to their family and friends. Sharing experiences on social media and bringing gifts home are important elements of this," according to The State of Chinese Outbound Travel 2014, which was published by the Travel & Tourism Intelligence Center headquartered in London.
However, it seems that few African countries have realized the importance of the "prestige element", which can be a strong motivator for Chinese to come.
"Many African countries are talking about simplifying the visa process for Chinese tourists, but they need to build people's intentions first. They need to educate the Chinese people that Africa is not the dangerous and ragged place that they have perceived in their minds. In some parts of Africa, it is modern and beautiful. If people know what they can expect from the trip, the tourist numbers will shoot through the roof," says Jones.
Paz Casal, travel and tourism research analyst at Euromonitor International, a market research firm, says digital advertising in China and social media integration are key to a successful campaign with Chinese tourists.
"A presence on Chinese social media networks such as Weibo (the Chinese equivalent of Twitter) as well as the acceptance of credit cards issued by China Union Pay and other popular Chinese payment methods such as Fapiao and Alipay are tactics that businesses should be adopting in order to attract a larger number of Chinese tourists to the region," he says.
Chinese tourists mostly go to places they know about. They usually visit Egypt for its historical sites such as the pyramids; Kenya to enjoy the animal migration; South Africa for the modern cities, nice beaches and wild animals; and Seychelles and Mauritius for beaches and beautiful seashore scenery.
"The other countries may have abundant tourism resources, but Chinese are not aware of that. If they don't strengthen their efforts to promote and offer products different from or better than those in the current main destinations, these destinations may continue to keep their dominant position," Yang says.
"South Africa was China's fastest-growing outbound market in 2013, with a 68 percent increase in outbound trips over the previous year, and this growth is set to continue over the next five years. Kenya and Tanzania are also two of the most attractive for Chinese visitors in Africa. Uganda could become another top destination for Chinese, especially if direct flights were to be introduced by China Southern Airlines," says Casal.
Chinese tourists are gaining a reputation in South Africa for visiting luxury retail outlets, making it clear how the benefits of the tourism industry can multiply.
Jones adds that Chinese tourists "love shopping, even in Africa where the market is not well developed. In Europe they buy designer brands, and in South Africa, they buy diamonds."
However, Chinese tourists may not have much to buy in many African countries. Many are unprepared in other ways, too.
"Many scenic spots that have never received Chinese travelers have started to see Chinese faces more and more frequently. These hotels and scenic spots have hosted Europeans and Americans before, but they have no idea what the Chinese would like to eat, to drink, or how to communicate with them.
'They need to pay attention to the growing number of Chinese guests, and provide a basket of Chinese-friendly services, such as speaking basic Chinese, providing porridge and noodles for breakfast, or simply putting a cup of green tea on the table as a gesture of hospitality," Jones says.
Han Jun, director of Go Africa Travel, says: "Many Chinese tourists, especially the seniors, are keen on Chinese food. However, almost no hotels in the parks where they go on safari offer Chinese food. When they get back to Nairobi, they can't wait to have Chinese food."
Language barriers may dampen tourists' enthusiasm as well. "Though more and more Chinese speak English, a lot still don't," says Yang, the professor. "And there are many French-speaking countries in Africa. More information should be in Chinese, especially in French-speaking countries."
Apart from South Africa, the infrastructure in many African countries is still too rough for many Chinese tourists.
The roads in Kenya are relatively good compared with other African countries, but many tourists still complain. "Most Chinese tourists we served complained about the bumpy roads. Many said their organs were almost bumped out," says Hu, the marketing manager.
Yang suggests China do more to help change tourism infrastructure in Africa. Aid for tourism infrastructure can help promote economic development in Africa, Yang says.
The current holiday system in China also makes it hard for many Chinese to squeeze out enough time to visit Africa, Yang says.
Contact the writers through houliqiang@chinadaily.com.cn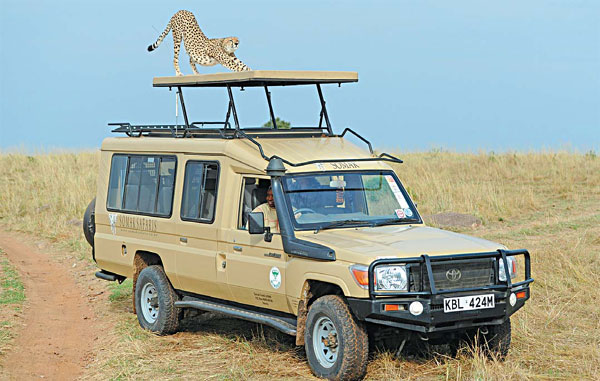 A wild cheetah stretches on top of a tourist vehicle in Masai Mara, Kenya. Provided to China Daily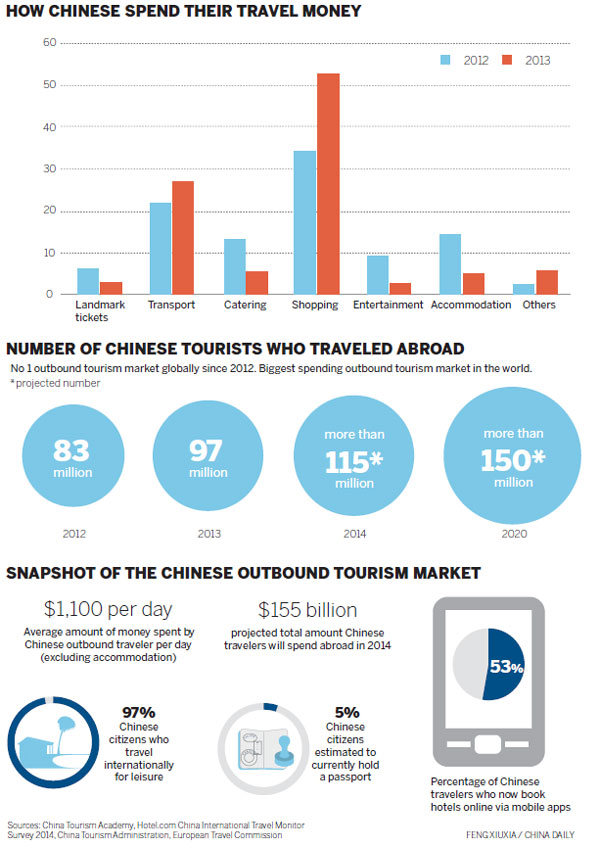 (China Daily Africa Weekly 11/28/2014 page6)