Chinese businesswoman repays the country for giving her a second home
In the consular district of Dar es Salaam, Tanzania's economic center, there is a Chinese eatery called simply Beijing Restaurant. Its red lanterns and overall decor, though not as fancy as many in China, conjure a strong sense of nostalgia in Chinese living here.
Yang Fenglan, founder of Beijing Great Wall Investment Ltd, opened the restaurant in 1998, the same year she established the company. Yang says she identifies more as an ordinary person than as a businesswoman and that she is extremely attached to Tanzania, both physically and emotionally.
In the 1960s, as China was funneling aid to begin the construction of the Tanzania-Zambia Railway, Beijing Foreign Studies University created a Swahili course program to give ambitious students a chance at providing additional help to the rail project. Yang says she jumped at the chance to become one of the first Chinese university graduates to be an expert in the language.
A new chapter in her life had opened up. After graduation, Yang began working as an interpreter for Chinese experts assigned to the construction project, which lasted from 1970 to 1975. She met her husband, who also was a Chinese worker on the railway. They later named their daughter Fei, meaning Africa, to honor their love of the country.
After completion of the Tazara Railway, Yang returned to China to take a government post in Beijing's foreign trade department. In those days, Chinese workers were required to return to China after their project was completed.
She was like many Chinese in the 1990s, seeking opportunities in the early stages of the country's market economy, but then she decided to look again at Tanzania.
In 1998, Yang rented a two-story building, putting the Beijing Restaurant on the first floor and her investment company on the second, and hired a Chinese chef and local residents as waiters. "I had never done business before and was quite worried. What if no one showed up on the day the restaurant opened?"
However, her concerns turned out to be needless: Not only the Chinese embassy's economic counselor, but also her former supervisor during the railway construction and other friends she had made over the years in Tanzania all came to show support. The restaurant has been visited by local Tanzanians as well as Chinese, and has been busy since then, even though other Chinese restaurants and diners opened about the same time.
"Now I do not count on the restaurant to make money. Instead, I see it as a place where people from China and Tanzania can communicate, get to know more friends and conduct information exchanges," Yang says.
"My daughter is the one who runs the business now, and she is really good at it," she says of Fei, who is in her 30s. It is not hard to detect a glimmer of pride and love in this mother's eyes, even though Yang says she seldom gives praise in front of the heir to her business in Africa.
Also, Yang is involved in an international trade fair, better known as Saba Saba Day, held every year on July 7 in Dar es Salaam since the Tazara Railway officially went into operation in 1976. It has become the country's biggest comprehensive fair and a gateway for global commodities to enter East African markets.
"I was a latecomer. Some Chinese here started participating in the fair as early as in the early 1990s," says Yang. "Back then, the whole country depended on imported light industrial goods. Chinese who saw this opportunity flew to Dar es Salaam with boxes of daily necessities, sold most at the fair, traveled to other regions in the country to sell out the remainder and flew back to China."
However, now many of those Chinese have settled in Tanzania and have seen their businesses grow to the point that they own shops and have regular customers, making it unnecessary to travel around the country as before. Businesses have grown beyond daily necessities to include such items as glass art ware, makeup, wigs, bed linen, machinery and equipment, and motorcycles.
According to the 2013 China-Africa Economic and Trade Cooperation white paper, the service industry has been a new highlight of China-Africa investment cooperation in the past decade. And many small and medium-sized Chinese investors have been engaged in growing and processing agricultural products and producing small commodities in Africa. The products and services these Chinese companies provide are closely linked with African people's livelihoods, and have been playing a growing role in meeting local needs, boosting local employment and promoting China-Africa trade exchanges.
Yang Fenglan has begun to manage a pepper farm of nearly 7 hectares, which she says should repay her investment in three to five years. She is exporting these along with peppers purchased from local farmers, to China, Japan, South Korea and India, Yang says. "We also started to plant jackfruit on our farm this year."
Even at the age of 64, when many Chinese have retired, Yang still plays an active role in bridging the distance between Chinese investors who plan to expand their businesses in Africa and Tanzania.
"I know I should have retired, but whenever I think that my language advantage and network can help many Chinese and Tanzanians and increase mutual trust and confidence, I do not want to stop. I myself am the best illustration of China-Tanzania friendship."
Through the years, Yang has selflessly provided help to Chinese companies coming into the country as well as to Tanzania's ambassador to China during several trips to China for trade promotion. Yang currently is helping Beijing Huayuan Weishi Security Service Co Ltd register in Tanzania as a consultant and find possible partners in the country.
"I was not and am still not a typical businesswoman," she says. "What I know is that, from my previous experience and with my help if they need it, Chinese companies wishing to explore the market in Tanzania can get a better understanding of the situation here and therefore save a lot of unnecessary twists and turns."
xiaolixin@chinadaily.com.cn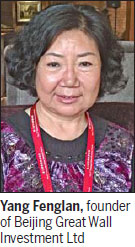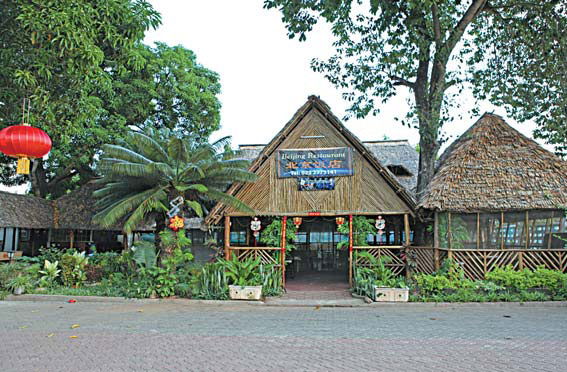 Locals and visiting Chinese welcome the restaurant. Photos Provided to China Daily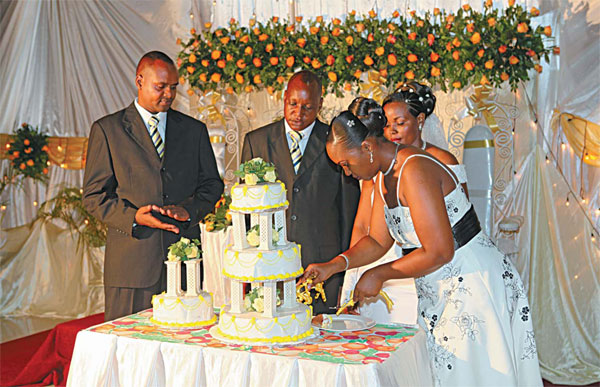 Locals during a wedding at the Beijing Restaurant in Dar es Salaam, Tanzania.
(China Daily Africa Weekly 11/28/2014 page1)