Vanishing rock that has many uses draws Chinese miner to Kenya
Li Cunchang has been searching for diatomite all his life, a quest that has now taken him to Africa.
Li, chairman of Chuanshan International Mining Co Ltd, says the billions of yuan his company has invested in Kenya are the result of something a friend told him.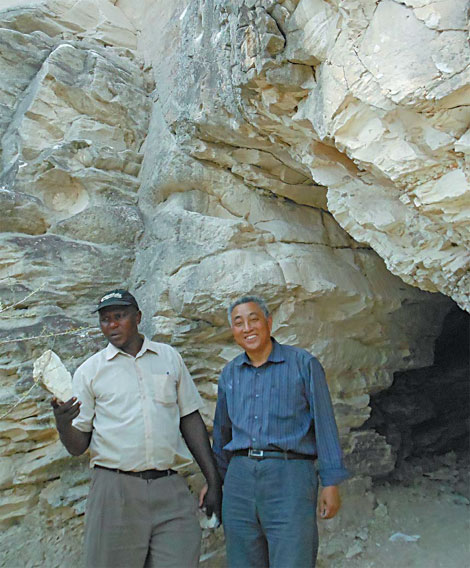 Li Cunchang, chairman of Chuanshan International Mining Co Ltd, takes business trips to diatomite mines in Kenya. Provided to China Daily
"He returned to China from Kenya in 2010 and told me he had seen a large area of land covered with something white," Li says. "It looked like diatomite, and it got me very curious so I went back with him on a visit."
When he saw the land in question he was awestruck, he says.
"It is a large open-pit diatomite mine. You can even see a large white area on a satellite photograph. The ore is very near the surface so it is suitable for open-cut mining, which is relatively safe and inexpensive.
Li studied material science at university and worked later in a forestry bureau in Northeast China, where he was in charge of exploiting diatomite, which is used, among other things, as an aid in filtration and as an abrasive in toothpaste. In 1995 he quit his job and started a company in Qingdao that did research on diatomite and developed diatomite-related products. The company now has more than 10 patents connected with diatomite research, diatomite processing equipment and making diatomite-related products, he says. The company produces about 10,000 tons of diatomite a year, and has sales revenue of about 50 million yuan ($8.1 million) a year, he says.
Li tested some samples and found that the diatomite there is of very high quality, the composition and shape being superior to what he had seen in China, he says.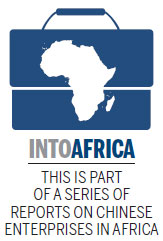 In 2011 he began talks with the Kenyan government and locals on exploiting the mine. Li says the company has now completed an environmental assessment and preliminary exploration, and both parties have agreed on how the land can be used.
In May an agreement was signed in Qingdao giving the company use of the 201 square kilometer mine, including mine resources in the area, such as manganese ore and agate, for 99 years, he says. Total investment will be $369 million. He also plans to plant pyrethrum, a kind of pure biological pesticide, in the area, he says.
Li says little attention had been paid to developing diatomite in recent years, until people become much more aware about the importance of using environmentally friendly building materials. However, in the past few years, demand for diatomite has doubled every year, he says.
"It is being used a lot more widely. It used to be used mostly in the food and chemical industries, such as in beer filtration and sewage disposal, but we want to develop it so it is used in more kinds of everyday products such as women's makeup and green building materials used in sound insulation.
Li's company has one patent on an architectural coating that is made of diatomite. He came up with the idea of developing the material in 2003 after he moved into a newly renovated apartment.
"I was always getting a sore throat and headaches. Since diatomite is non-toxic and harmless, I wondered whether I could develop building materials products using it."
He then asked a professor at Huazhong University of Science and Technology to do some research, and in 2004 they developed a kind of architectural coating.
Li says the development of diatomite is still at an early stage in China, and the market needs working on. Annual demand is now up to 500,000 tons a year, and he expects that figure to more than double in three years.
"Most of the companies in this industry are quite small, but more overseas and Chinese companies are entering it," he says.
His company has a 100,000 square meter processing plant in Qingdao that employs 68 people.
Li says expertise in diatomite in Africa generally is hard to find. Western and Japanese companies mined a lot of the rock earlier, and it is now scarce, he says.
The project will deliver not only a tax windfall to Kenya, but also electricity, new roads and schools, he says.
People living in the area where the company's mine is located appreciate the benefits it is bringing them, he says.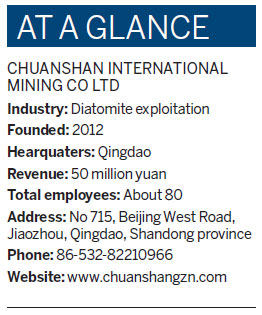 "Some people have even named their children after our mine."
He expects the new mine would produce about 300,000 tons of diatomite a year, and the company produce 150,000 tons of diatomite-related products a year.
Half the diatomite is to be sent to China and the rest to other parts of Africa and to Europe. In Kenya, annual demand is about 3,000 to 4,000 tons a year, in South Africa about 20,000 tons a year, and in the rest of Africa about 50,000 tons a year.
"China has few diatomite resources even now, and they are going to continue to fall. Extensive exploitation has depleted stocks and to some degree resulted in destruction of vegetative cover."
Li says his company is in the preparatory stages of production in Kenya now, and has only 11 employees there, six of them locals and the others Chinese. But before mining starts he will have to recruit about 380 people, as many as 95 percent of whom would be locals.
"Creating employment is what we need to do. We also want to hire someone there to help us train the local employees."
Li says that because mining will damage vegetative cover, the company plans to devote about 6 percent of what it invests in replanting new vegetative cover. An additional 3-5 percent will be spent on local infrastructure and water conservancy, and about 300 employees will be used to replace the vegetative cover.
"We need to be responsible toward local people," he says.
"Kenya counts very much on tourism and agriculture, and we don't want to damage its environment."
Li says that while there are other development opportunities in Africa, such as gold, jewelry and oil, he wants to concentrate on diatomite, although he is keen to alert other companies to the possibilities he cannot make use of.
Construction of his company's factory is due to be completed within the next five weeks, and mining would start next year if things go well, products should start coming off the production line later on in 2015.
chengyinqun@chinadaily.com.cn
(China Daily Africa Weekly 11/28/2014 page21)