There is a lot more to this place then just natural beauty
When Wang Zuojin first arrived in Tanzania in 1995, he was impressed by the beautiful natural scenery and leisure lifestyle here. Wet wind from the Indian Ocean, small hills that stretch as far as one can see, friendly local residents - all grant this land a kind of mysterious attractiveness.
On top of the natural beauty, he found another big draw: abundant business opportunities. The third-largest mining economy in Africa, Tanzania has many high-quality mines. With most of the mining sites operated by Western corporations, Wang saw an opportunity and took it, almost immediately deciding to stay in the country.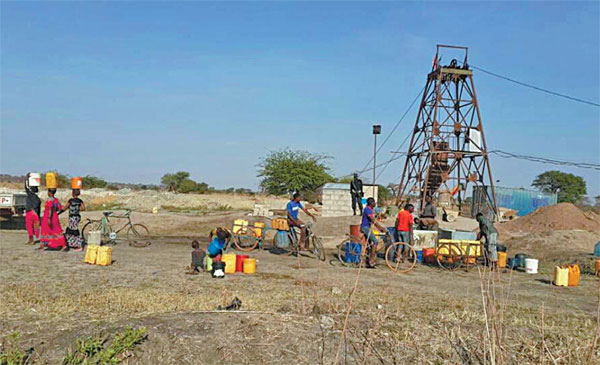 An exploration site of Kiluwa Mining Group Co Ltd in Tanzania. The company shares technology with local workers. Provided to China Daily
He first opened a branch of Fuda Medicine to produce medicine for malaria, the epidemic still rampant in Tanzania. While helping local people fight disease, they dug the first barrel of gold, with which Kiluwa Mining Group Co Ltd, which means friendliness and cooperation in the local language, was founded.
They started with gold and lead-zinc mines. "We often use 'digging gold' to describe fast money, but it is not as easy as people imagine," Wang says. "Tanzania is full of resources, but full of investors, too."
Having settled here in the 1970s, Western companies had already occupied most of the rich mining sites and left smaller sites to Chinese and other latecomers.
A certain rich mining site owned by Europeans had estimated reserves of 395 tons of gold, making it world-class mine; Kiluwa had two mines with eight tons of gold together, in Tabora province.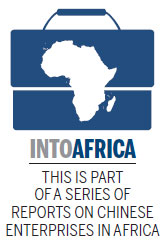 China lags behind in technology, too, as its technologists have to rely on manual labor where Western companies use machines. On their way to finding mines, Kiluwa technologists often tried a whole day, only to find earth covered with a small cap of metal. It was after repeated failures that they found the above-mentioned mines to start the business.
However, as a latecomer to the market, Kiluwa has its advantage. "Cooperation" is Wang's business philosophy, namely making friends with neighbors and all.
Most enterprises that came to Tanzania, be they European, Chinese, or Indian, had a problem in common: they did not trust local employees. They always hire locals for physical labor only, and bring in most of their administrative staff members from their home countries.
Wang found that business mode increases cost. As the managers work far from home, they have to travel and demand additional annual leave; so their pay is generally higher than that of local equivalents. More importantly, local laborers do not trust these foreign managers, either, so strikes happen now and then, bringing heavy losses to production.
Kiluwa follows an innovative mode: it makes sure locals account for more than 90 percent of all employees and they should fill in both physical and technological posts. Today Kiluwa has a staff of more than 2,000 members, and its Chinese employees do not exceed 20, which saved business costs while paying locals higher wages on average.
While employing locals, Kiluwa also trusts them more than others. It shares technology with local workers and allow them to open branches with shares in the whole company, thus helping many locals get rich.
Unlike other Chinese businesses that mix Chinese technologists with local laborers, Kiluwa insists organizing independent working groups of locals and appointing leaders from among them.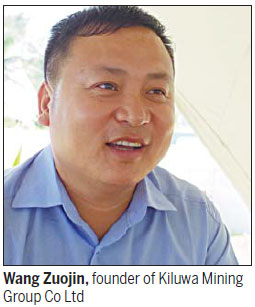 It proves effective because local leaders interact better with local workers - Kiluwa's local employees seldom hold a negative attitude towards working, a common headache to many Chinese and Western enterprises.
Diversifying is another strategy that helped Kiluwa survive. "We are a smaller company compared with Western giants," Wang says, "that is a disadvantage, but we are more flexible, too, and can easily change our investment when opportunities emerge."
For example, the company started with digging goldmines, but when that business showed hint of declining, they quickly finished the digging job and turned to lead-zinc mines instead; then, with the fast development of Tanzania, which meant large needs of steel, they invested in iron mining. "Our goldmines are smaller, so the investment in digging machines was lower, too; that saved much money when we transferred to iron and lead-zinc," Wang says, adding that some other Western companies suffered much heavier losses when compelled to transfer. Now Kiluwa prospers in the iron mining industry with 500,000 tons of production annually; a new, bigger iron ore processing plant is also under construction, which occupies more than 17,000 square meters of land.
Kiluwa's last secret lies in finding business partners. Unlike the companies that view newcomers as potential competitors, Wang and his team seek opportunities for cooperation everywhere possible.
For example, when Tanzania accelerated infrastructure construction, Kiluwa shared the information with several construction enterprises from Beijing. The company needs materials when starting construction here, but shipping them from China would multiply business costs; they often turn to old friend Wang for steel, and Kiluwa got quite big orders for its produced iron.
With business flourishing, Wang hopes to promote local development, because he believes that to maintain a tie of friendship is key to prosperity and that is what Kiluwa has always been doing.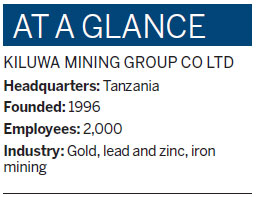 Shortage of water is a problem afflicting Tanzania, and the capital Dar es Salaam is no exception; even schools sometimes do not have sufficient water supply for pupils.
When Wang and his executives found Kiluwa's mining machines could dig deep in the ground and pump water hidden deep underground, they thought about how to help the locals. After delicate planning, they decided to pump water at 7:30 every morning and allow locals to come and collect free water for 15 minutes; as the queue was long at first, they decided to open in the afternoon.
Their goodwill is rewarded with goodwill from locals, who began treating Kiluwa staff as friends. Wang is especially glad for having received vegetables as gifts from local residents, who planted them with Kiluwa water.
"We might not be the most economically successful Chinese enterprises here, but we maintain the best relationship with local residents," he says.
Having lived here for years, he treats Tanzania as a second hometown. "Our future is related with that of Tanzania and China: only with development of the former could we enjoy infrastructure and invest, while only with prosperity of the latter could we be rich enough to invest and make more prosper."
zhangzhouxiang@chinadaily.com.cn
(China Daily Africa Weekly 11/28/2014 page22)