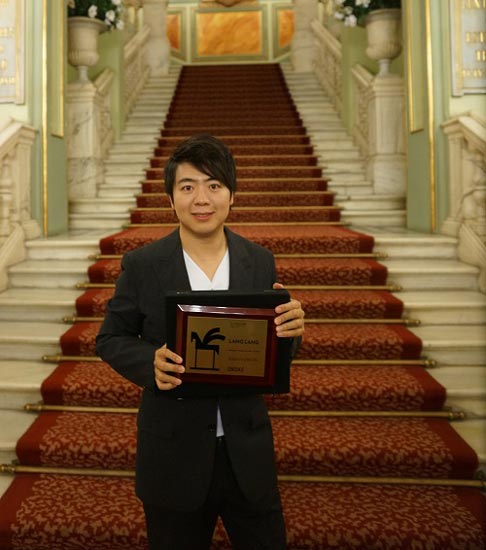 Lang Lang receives the Premios Ondas award on Tuesday in Barcelona, Spain. [Pui Ho / for China Daily]
Chinese pianist Lang Lang won the prestigious Spanish Premios Ondas award on Tuesday in Barcelona, Spain, becoming the first Chinese to receive the honor.
The committee said Lang got the award in recognition of his achievements in bringing classical music to the whole world and especially to new and younger audiences.
Lang, 32, accepted the Special Mention of Music's Award during the 61st Ondas Awards Ceremony 2014 and performed on stage at the Gran Teatre del Liceu.
"To receive this award is an encouragement for me," Lang told China Daily, adding that he will try his best to promote music education for children all over the world and help more children appreciate classical music.
Lang also said that he gave a master class to junior music camp students in Barcelona on Nov 15.
The Premios Ondas awards were first set up in 1954 and are given out annually. In 1956, the program extended its scope with an international awards category.
Well-known bands U2, Red Hot Chilli Peppers and Coldplay, as well as pop singer Ricky Martin, have all previously won the award.
On Nov 13, Lang won the German Bambi Award in Berlin for his outstanding achievements in classical music. Last year, Lang also was the first Chinese to be named International Artist of the Year at the Classic Brit Awards in Britain.
Lucía Lorenzo contributed to this story.