A Chinese entrepreneur and her partner are putting African art within reach of her compatriots
Chinese who love African culture and arts may soon find that artifacts made in Africa that they would love to get their hands on are just a few finger tips away.
This is thanks to an e-commerce site specializing in all things African that Shi Yingying, from Shenzhen in Guangdong province, has helped set up.
African Heritage Design Company opened in May.
"Originally I had the idea of selling African products to China, but then realized this was very narrow-minded," Shi says.
"'What can one company do? How many products can it sell?'" she recalls asking herself.
The notion of online sales did not come totally out of the blue, Shi having formerly co-owned an arts and crafts factory in Kenya. With the idea of an Internet site fresh in her mind, she summoned the help of Makena Mwiraria, her co-owner in the Kenyan factory, who had been the chief designer.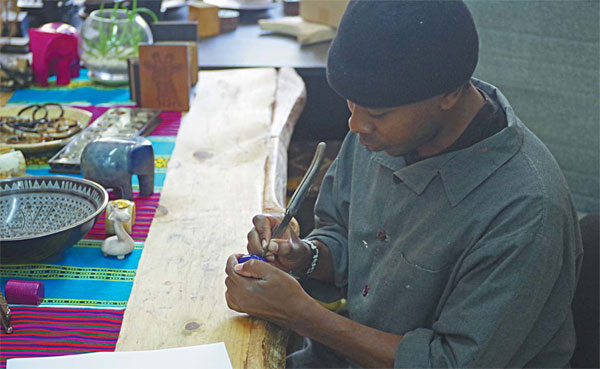 A craftsman works on handicrafts at African Heritage Design Company. Zhu Qiwen / China Daily
Mwiraria, who worked as a pharmacist for 16 years before getting into the arts business, says: "I always loved art when I was a teenager. But I wasn't allowed to study it because my parents thought I had to study something serious.
"Even after I became a pharmacist, I was always learning and reading about art and doing it because that's my true love."
The goal for the Internet site is for it to grow into an e-commerce site that transcends the world of art and is not only for Chinese buying African products but also for Africans buying Chinese products, Shi says.
"We are not going to limit ourselves simply to African handicrafts, but will sell products such as leatherware, skincare products and shoes from South Africa, Ghana, Ethiopia, Nigeria and many more African countries."
At first, she says, there was a marked reticence by African companies to be involved with the website, not the least because they had qualms about whether Chinese would want to buy their goods and whether they could make money.
So Shi's team ran a couple of business cases past them to illustrate that the idea was not only plausible but promising.
"As we build the site, things are going very well in China, this being the best time for cultural exchanges between China and Africa, especially with people born after the 1980s beginning to work. Post-1980s Chinese are very open to African culture, and they are willing to travel to the continent, and to look at our site. It's a lot different to the way things used to be, when if you just uttered the word Africa most Chinese thought of disease, war and chaos."
The pair opened a WeChat public account in June through which they issue information and reports on all aspects of life in Africa.
The material is contributed by volunteers who are Chinese studying or working in Africa. It is available in Chinese and will later be availabel in English and African languages. Many of the volunteers are PhD candidates, or are graduates, business people and travel agents living in Africa, Chi says.
Cultural misunderstandings between Africans and Chinese can engender some difficult situations, she says. For example, it is not unusual for an African to refuse to work when it is raining, which would perplex, if not infuriate, most Chinese employers.
In addition, Chinese are prone to ask questions that come across as bizarre and impolite to Africans, such as how many children they have or how many wives their father has.
One aim of the WeChat account is to clear up these kinds of misconceptions, disseminating knowledge about African customs, and economic and legal issues. However, Shi makes it clear that she and her partner hope this will in turn generate sales.
Once the Internet site is running smoothly, she says, she will return to set up a company in Zhejiang province, from which she hails. That company will focus on culture and technology, while the one in Shenzhen focuses on trade.
All members of her startup team are now in Africa or have been there, she says.
"Online payments is the only issue we have yet to resolve because it obviously involves mutual trust, and the Alipay system does not support cross-border payments."
Orders from Chinese corporate customers are gradually increasing, she says, even though African Heritage Design Company has done little to promote its products in China.
"All of our Chinese customers have got to know us through the WeChat public account, or by word of mouth."
But at some stage the company will consider seeking help from marketing agencies or cultural authorities.
"We now have 15 people working full time for us, and as the number of orders shoots up we may hire another 300 or 400 temporary workers.
All handicrafts made in Shi's factory in Nairobi will have to be tailored to Chinese consumers' artistic taste, she says.
Mwiraria says there are many similarities between artifacts made in China and Africa, and comparing ideas and techniques is a positive thing because it generates ideas and takes art to exciting new levels.
The biggest difference in taste for handicrafts between Chinese consumers and their counterparts in other markets is in the attention to detail, she says.
"For the markets we've traditionally sold to, they like things very natural, they like it very handmade, and they don't want anything perfect, whereas Chinese care about perfection. If there is a scratch they don't want it.
"They seem to want it handmade goods to be as perfect as though they were machine made."
She attributes this demand for perfection to the work of Chinese artisans who usually turn out faultless objects by hand, meaning they have to deal with grumpy customers if there is the slightest blemish.
Europeans tend to prefer more natural colors, while Chinese like a more colorful, contemporary look.
"We should just be who we are," Mwiraria says. "This is how we do our things, and that's the beauty of it all. That's how you know it's African, not Chinese. The importance for us is not everything being perfect. It's more about mood and spirit."
huangying@chinadaily.com.cn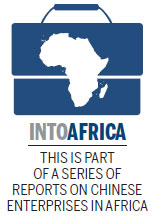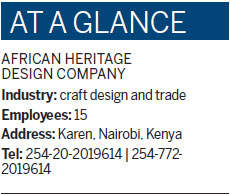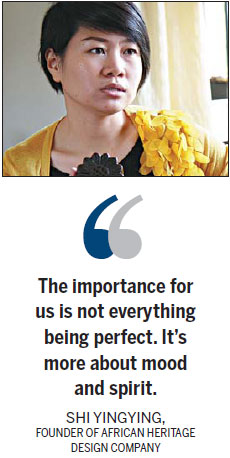 (China Daily Africa Weekly 11/21/2014 page1)