Company builds hotels in national parks in Kenya to cater to Chinese tourists
When Wang Xueyuan, president of Zhongfa Sinodevelop Technology Co (Beijing) Ltd, traveled to Kenya in 2009 during the peak tourism season between July and September, he arrived to a nation of packed and poor-quality hotels.
Disgruntled but seeing a viable business opportunity, he spoke with Zhang Hongtao, who at the time was involved in the US hotel industry, about building a hotel in the East African country.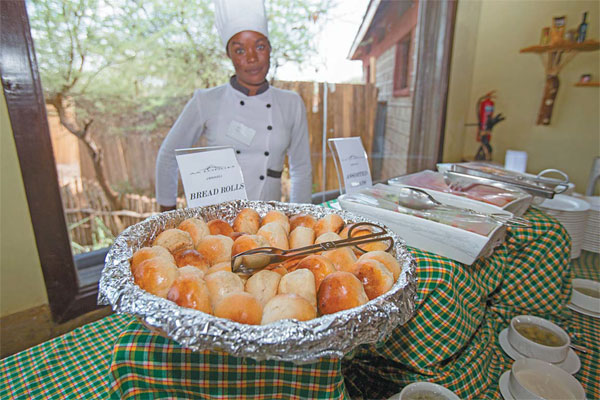 The restaurants of Zhongfa Africa's hotels serve many different cuisines. Provided to China Daily
At the time, their shared vision made economic sense. Personal wealth had begun growing and the central government had begun encouraging tourism to boost the national economy. In 2012, Kenya received 41,300 Chinese tourists, an increase of 10.4 percent compared with 2011.
After hatching his idea, Wang sent Zhang to Kenya to research the country's political environment, laws and regulations and hotel industry. In 2010, Wang approved of a project to build AA Lodges in Amboseli National Park.
"Choosing the location of the hotel was essential. Every detail is important, from the distance to the park gate, the view, the flatness of the land, the traffic flow, etc," says Zhang, who is head of Zhongfa Africa. "For a hotel in Amboseli, the most important factor is that tourists can see Mount Kilimanjaro and see elephants."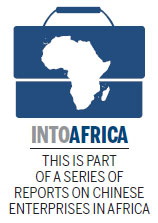 Zhang admits that while finding a location for the hotel came easy, constructing it was another matter entirely.
"It's easy to find bidders for the construction of a hotel in Kenya's urban areas. But that is not the case far away from cities. Chinese companies are unfamiliar with Kenya's construction practices," Zhang says. "And Indian companies said it would take them three years to build. For a hotel, the earlier it opens, the earlier we profit."
Zhang says after a lot of digging he found construction companies in Kenya, who built the hotel in eight months at a price of 30 million yuan ($4.9 million). The hotel in Amboseli is spread over 24.3 hectares of land and has 60 guest rooms.
Zhongfa Africa then began construction on a second hotel in April 2013 in Maasai Mara National Reserve, a large game reserve in Narok county, Kenya. The 78-room hotel also cost 30 million yuan and was built on 10.1 hectares of land. It opened earlier this year.
Rates at the hotels are steep, from its lowest price of $110 per person per room to $390 a night.
The company is currently expanding the Amboseli lodge with an additional 38 rooms. Zhang says the company employs about 100 employees at the two hotels, most of whom are local residents.
"As a company registered in Kenya, we should hire locals, even though it's difficult to build a management team here," Zhang says.

The lodges in Kenya host guests from all around the world, he says, all of whom have different preferences when it comes to their lodgings.
"Europeans and Americans like enjoying the wilderness of Africa, so they like to live in tents. Asians, however, feel unsafe in tents and they like choosing cottages," Zhang says.
He adds that Chinese nearly always want to dine on Chinese food and are not open to local cuisines. "We always offer Chinese food."
Over the past two years, Kenya's hotel industry has been in flux, mostly because of the terrorist attack last year at the upmarket Westgate shopping mall in downtown Nairobi that killed 67, the series of terrorist attacks in Mombasa this year, and the outbreak of Ebola elsewhere in Africa. Many Western nations, such as the United States and the United Kingdom, have since issued warnings about traveling to Kenya.
According to the state-run Kenya Tourism Board, international arrivals for the first five months of the year are down 4 percent, from 398,000 in 2013 to 381,000 in 2014.
"It's the peak tourist season from July to September. But since early August, occupancy rates for our hotels have been at times as low as 5 percent, " Zhang says. "Almost all tourist groups have canceled their plans to Kenya after Aug 20. We were planning to open hotels in Uganda and Tanzania, but now we want to wait and see what the situation will be."
To draw more interest in the AA Lodges at Amboseli, Zhang plans to transform the hotel into a conference center during off-peak seasons. At Maasai Mara, however, Zhongfa Africa is planning another hotel to compete against the numerous high-end hotels in the park. Construction on the third hotel will start in December and Zhang says tourists can take direct charter flights to the hotel from Jomo Kenyatta International Airport.
"Customers can enjoy a butler-style service in the hotel. While enjoying the wonderful nature, they will get personal service as well," he says.
Other high-end hotels are being planned for the country, including one that will offer wedding services in the hopes of attracting more Chinese to come during off-peak seasons.
In a pitch to future Chinese tourists, he says it's not just the Great Migration that is worth viewing in Africa. Maasai Mara is famous for its population of wildlife and the annual migration of mammals to and from the Serengeti every year from July to October.
"There is not only the Great Migration in Africa. It's cold in October, November and December in China. But it's always like spring here. No matter which season you come to Amboseli, for example, you can always see elephants, giraffe, zebra and so on," Zhang says.
"I will try to make Chinese know the real Africa."
houliqiang@chinadaily.com.cn
(China Daily Africa Weekly 11/21/2014 page20)