China's investments in continent shifting to manufacturing and telecommunications
Africa continues to be the beacon for China's outbound investment, with companies committing to cumulative investments of about $150.4 billion in the Sub-Saharan region from 2006 to July 2014, despite the marginal slowdown in actual investment to the region, according to a new report.
The China Global Investment Tracker, published by the Washington-based American Enterprise Institute and the Heritage Foundation, says the investment pipeline continues to be robust in Africa, with actual investments in the region rising to $19.49 billion by the end of 2013, compared with $5.54 billion in 2006 when China started its "going global" strategy.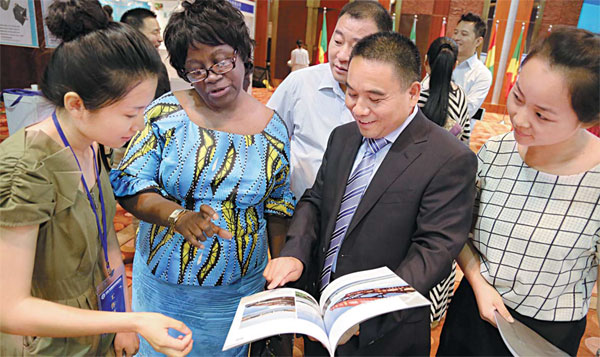 Chinese business owners show their investment projects in Africa at an investment forum in Beijing this year. Provided to China Daily
The report also finds common ground with a recent white paper published by the government on China's economic and trade cooperation with Africa, which says that China's investment in Africa grew at an annual rate of 20.5 percent between 2009 and 2012.
Most of China's outbound investments in Africa have centered on the metals and energy sectors that accounted for more than 80 percent of China's outbound investment in the region, according to a separate report published by the Chicago-based Mayer Brown, a global legal services provider.
Actual investments to Africa slowed slightly during the first six months as China is looking to diversify its investment sectors and geographies. According to AEI data, China's outbound investment to Africa amounted to just $1.9 billion during the first six months of this year.
"The drop-off can be explained partly by a moderation of China's appetite for resources as economic growth slows, and also due to an increase in risk-aversion among national resources and energy companies," says the report.
Ge Xiangyang, a partner with Mayer Brown, says that has not stopped a flurry of deals by Chinese private companies in Africa.
"For private companies, the driving force undoubtedly is the better returns that Africa offers," Ge says.
Unlike the SOEs, private companies with an eye on Africa are also more cautious about the possible risks, says Wang Jiahua, executive vice-president of the China Mining Association.
"It is time to stop paying 'tuition fees' for Chinese companies during their overseas investment," he says.
Proper due diligence mechanisms will help ensure the success of Chinese merger and acquisition deals in the African mining sector.
Zhejiang-based private mining company Huayou Cobalt Co Ltd first decided to invest in cobalt and copper mining, processing and refining plants in Africa in 2006.
Li Xiaodong, its vice-president, says the company made thorough investigations before committing investments in Africa.
"We started as a trading company, importing cobalt from Africa. After three years of preparation, we bought three mines in the Democratic Republic of Congo," Li says. It has now become China's biggest and the world's third-largest cobalt producer by production capacity.
China's demand for cobalt, an important raw material for batteries, has grown rapidly in past years, with about 90 percent of the demand being met through imports.
"The company's success depends on an accurate sense of the market and friendly bilateral ties between China and Africa," Li says.
During President Xi Jinping's visit to Africa in March 2013, he made a commitment to provide concessional loans worth $20 billion to the region by 2015, further reinforcing China's economic ties to the continent.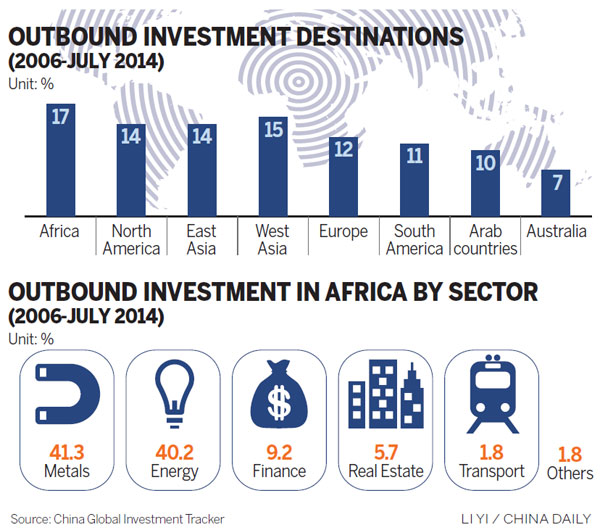 In addition to increasing private investors, there is another trend that China's investment in Africa is shifting from natural resources to other areas including infrastructure, telecommunications and manufacturing, says the AEI report.
In 2013, the state-owned China Machinery Engineering Corp signed a $127 million contract to build and expand power grids in six cities in Equatorial Guinea, and a $199 million contract to build a national power supply system.
In the same year, the company also won contracts to build two power plants in Nigeria for $621 million.
In telecommunications, ZTE Corp and Huawei Technologies Co Ltd have been building fixed-line and wireless telecom networks throughout the continent.
Paul Theiss, chairman of Mayer Brown, says challenges remain for China's investment in Africa even though it can provide stable jobs to Africans who are eager to climb out of poverty.
"China is facing a host of perception-related issues in Africa as local employees are often suspicious of China's true intentions, and chafe under the different expectations of Chinese employers," says Theiss.
Tong Junhu, general manager of the overseas development department at China National Gold Group Corp, the nation's biggest gold producer, says China is still facing challenges like unstable political conditions, weak infrastructure and poverty in Africa.
"China Gold has been working on many corporate social responsibility projects in Africa to strengthen communication with local communities," Tong says.
The company has helped build roads and bridges in Africa and also donated money for education and drinking water projects for residential communities, according to Tong.
He says the investment environment in Africa's mining industry has been improving and the overseas business now has a major say in the overall group profit.
"Considering the current weak commodities market, it is a good time to invest in African mineral resources business at reasonable cost," he says.
Ge with Mayer Brown says Chinese companies need to conduct more thorough due diligence that fully accounts for the unique costs and challenges presented by the target market in Africa.
To better reform Chinese companies on outbound investment, the Chinese Chamber of Commerce of Metals, Minerals and Chemicals Imports and Exports released its guidelines for social responsibility in outbound mining investments on Oct 28.
Zhang Jianping, a senior researcher at the Institute for International Economic Research at the National Development and Reform Commission, says it is important for the country to provide outbound investment guidelines for huge industries like mining.
Contact the writer at dujuan@chinadaily.com.cn
dujuan@chinadaily.com.cn
(China Daily Africa Weekly 11/21/2014 page23)