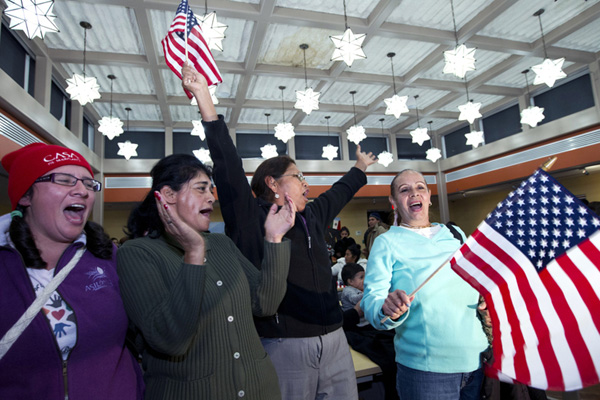 Antonia Pena, Esperanza Nope, Antonia Surco and Dolores Fontalvo (From left) react after President Barack Obama's speech addressing immigration at Casa de Maryland in Hyattsville, Md., Nov 20, 2014. [Photo/IC]
WASHINGTON - US President Barack Obama announced Thursday night a set of executive actions that will make roughly 5 million undocumented immigrants in the country eligible to avoid deportation.
The plan will allow undocumented immigrants who are parents of US citizens and legal permanent residents, known as green card holders, to legally live and work in the country for a period of three years.
It expanded the pool of undocumented immigrants brought to the country as children who are eligible for protected status.
The plan will also expand the total number of high-tech visas and loosen restrictions so that more would-be entrepreneurs can travel legally to the United States to launch companies.
Meanwhile, it refocuses the nation's entire immigration enforcement apparatus on a much smaller pool of immigrants who are with criminal records, ties to terrorist organizations or gangs and people who crossed the border in past years.
"Mass amnesty would be unfair. Mass deportation would be both impossible and contrary to our character," Obama said in a prime-time address at the White House, saying "what I'm describing is accountability -- a commonsense, middle ground approach."
He added that "if you meet the criteria, you can come out of the shadows and get right with the law. If you're a criminal, you'll be deported. If you plan to enter the US illegally, your chances of getting caught and sent back just went up."
Analysts said that Obama's move is aimed at bringing some accountability to the country's broken immigration system. The biggest change to the immigration system will be the new program that allows the parents of US citizens and permanent residents to apply for work permits and deferred deportation.
The president urged his congressional opponents to pass a bill on it, saying "the actions I'm taking are not only lawful, they're the kinds of actions taken by every single Republican president and every Democratic president for the past half century."
The Republicans have said Obama's actions would not only hurt chances of passing an immigration overhaul but also damage his relations with the incoming Republican-controlled Congress.
They have promised to do everything in their power to block the president's actions. Some have called for impeachment. Some wanted to sue Obama in federal court. And some wanted to use Congress' power of the purse to defund the move while debating next year's budget.