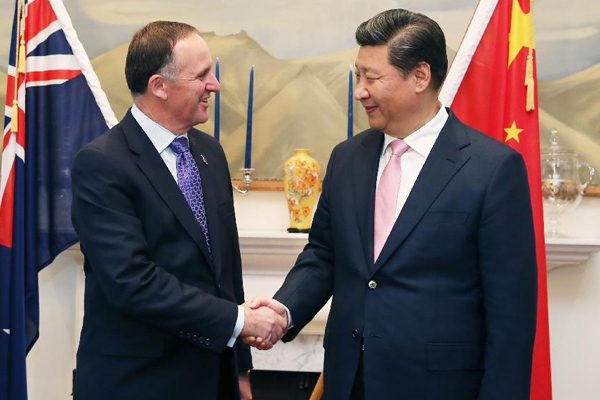 Chinese President Xi Jinping (R) shakes hands with New Zealand's Prime Minister John Key in Wellington, New Zealand, Nov 20, 2014. Xi Jinping and John Key held talks in Wellington on Thursday. [Photo/Xinhua]
WELLINGTON - China and New Zealand have decided to lift their relations to a comprehensive strategic partnership, said a joint statement Thursday.
The decision was announced after talks between Chinese President Xi Jinping and New Zealand Prime Minister John Key as well as a meeting between Xi and Governor-General Jerry Mateparae.
In the statement, the two sides noted that China became the largest goods trading partner of New Zealand for the first time in 2013, and that the goal of doubling two-way trade to 20 billion New Zealand dollars ($15.69 billion) by 2015 was achieved ahead of schedule.
The two countries promised to continue to implement the comprehensive and high-quality free trade agreement (FTA) and fully utilize cooperation mechanisms such as the Joint Trade and Economic Commission and the FTA Joint Commission, the statement said.
Concrete and effective measures will be taken to achieve the target of 30 billion New Zealand dollars ($23.54) in bilateral trade by 2020, it said.
The two countries also expressed their intention to consolidate and expand practical cooperation in agriculture and animal husbandry.
On people-to-people exchanges, the two sides pledged to expand cooperation in areas such as tourism, culture, sports, broadcasting and television and Antarctica, according to the statement.
Meanwhile, the two countries will work together to further education cooperation, and strengthen cooperation and exchanges in the area of science and technology, it said.
The two sides will develop and implement a long-term plan for defense engagement and continue to work constructively on crime and legal issues, it said.
The joint statement also noted bilateral cooperation on finance and investment, climate change, and broader regional and international cooperation on non-traditional areas such as anti-piracy, counter-terrorism and disaster prevention and mitigation.
The two sides will also maintain close communication and coordination on major international and regional affairs, the statement said.
The China-New Zealand relationship, it said, shows that countries with different political systems, history and cultural traditions and at different stages of development can constructively cooperate.
Xi started his three-day visit to New Zealand on Wednesday. He will fly to Fiji on Friday to continue his South Pacific trip, which has already taken him to Australia.