TOKYO - Japan has slashed its whale catch target in the Antarctic by two-thirds in a bid to resume its annual whale hunt, which an international court ruled must stop.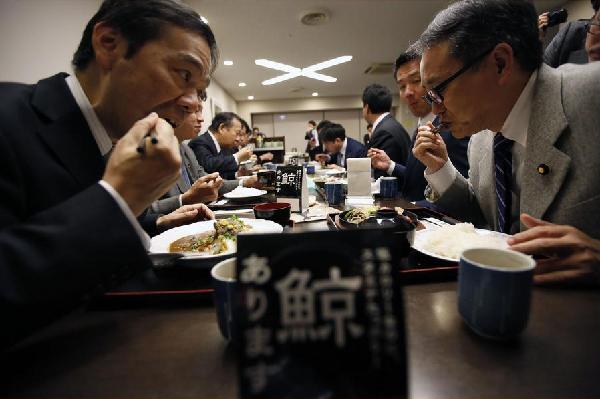 Japanese lawmakers including Toshihiro Nikai, former Economy, Trade and Industry Minister, and Daishiro Yamagiwa, State Minister of Economy, Trade and Industry, taste whale meat menu during a whale meat promotion event at a restaurant in the ministry in Tokyo November 19, 2014. [Photo/Agencies]
The revised program submitted Tuesday to the International Whaling Commission says Japan seeks to catch 333 minke whales each year between 2015 and 2027, down from an earlier target of 1,035 whales - 935 minke and 100 fin and humpback whales, the Fisheries Agency said. Japan will send a nonlethal expedition to the Antarctic for the 2014 season in January.
Japan also promised to publish its findings in scientific journals and share them in a database. It called for a review of the program by the IWC after the first six years.
The agency said the hunts are needed to accurately estimate whale stocks and determine appropriate catch quotas. Agency officials said whales must be killed to examine their reproductive organs to gauge their age. Minke whales are not endangered.
Whaling for research purposes is exempt from a 1986 international ban on commercial whaling that was imposed because of concerns over declining whale stocks. Japan has been conducting what it calls research whaling in hopes of proving that stocks are plentiful enough to allow a resumption of commercial hunts.
But in March, the International Court of Justice ruled that the Antarctic program must stop because it wasn't scientific, as Japan had claimed, and produced little actual research. The court also said Japan failed to explain why it needed to kill so many whales for its research.
Agriculture Minister Koya Nishikawa told reporters that the revised program factored in the issues cited in the court's ruling. He said Japan is willing to revise the program as needed and address questions and concerns from the commission.
Approval from the IWC's scientific committee isn't mandatory for Japan to resume its hunts, but it is likely to face intense scrutiny over whether it is complying with the court ruling.
Opponents say Japan's research hunts are actually a cover for commercial whaling.
In the revision, Japan dropped plans to hunt fin and humpback whales after hardly catching any of those species over the past nine years.
After steadily fulfilling an annual Antarctic catch target of 440 whales for 17 years, Japan more than doubled the quota to 935 minke whales in 2005. It came close to the new target the following year, but its catch has fallen since then, mainly because domestic demand for whale meat has declined significantly. The government has spent large amounts of tax money to sustain whaling operations. Protests by the anti-whaling group Sea Shepherd also contributed to the declining catch.
Now whale dishes appear at limited specialty restaurants, public school lunches or some government cafeterias as part of promotion campaigns.