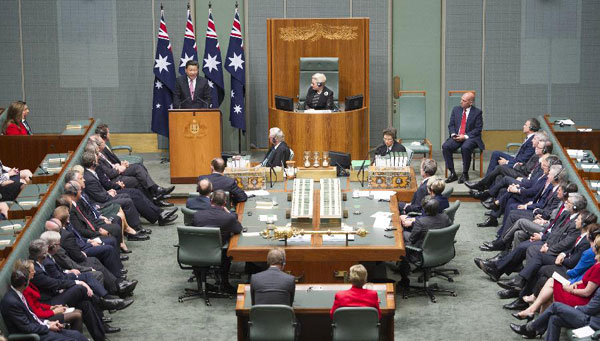 Chinese President Xi Jinping delivers a speech at the Federal Parliament of Australia in Canberra, capital of Australia, Nov 17, 2014. [Photo/Xinhua]
CANBERRA - Visiting Chinese President Xi Jinping here on Monday likened his country to a "big guy in the crowd" that draws attention and concern, but stressed that the world's most populous nation will continue to pursue a peaceful development path.
"China is a large country of over 1.3 billion people. It is like a big guy in the crowd," Xi said while addressing the Australian Federal Parliament.
"Others will naturally wonder how the big guy will move and act, and be concerned that the big guy may push them around, stand in their way or take up their place," he said.
The Chinese president dismissed those concerns, vowing that his country remains unshakable in its resolve to pursue peaceful and common development, and to promote cooperation and development in the Asia-Pacific.
"I believe that the world is big enough for all of us to grow together," he said.
While China is big in size, Xi said, "our forefathers realized over 2,000 years ago that a warlike state, however big it may be, will eventually fall."
"A harmonious and stable domestic environment and a peaceful international environment are what China needs most," he noted, adding that neither turbulence nor war serves the fundamental interests of the Chinese people.
Xi pledged that China will continue to follow a win-win strategy of opening-up, both uphold justice and promote cooperation, develop an open economy and strengthen and expand all-round mutually beneficial cooperation with other countries.
"China will never develop itself at the expense of others," Xi said.
The president reaffirmed China's commitment to building friendly relations and partnerships with its neighbors.
"We follow the principles of promoting amity, sincerity, mutual benefit and inclusiveness, and advocate a new vision of Asian security" that features common, comprehensive, cooperative and sustainable security, he said.
Meanwhile, the president said that the Chinese people will firmly uphold the core interests of China's sovereignty, security and territorial integrity.
"We hold that countries, big or small, strong or weak, rich or poor, are all equal," Xi said, emphasizing that "a big country should not bully others, but neither should a small country provoke others."
"A country should be judged not by its size but by whether its actions are compatible with international justice," he added.
Xi is on a state visit to Australia after attending the Group of Twenty Summit in Brisbane.
Australia is the first leg of Xi's ongoing three-nation tour, which will also take him to New Zealand and Fiji.
Related Stories:
China-Australia ties have bright prospects: Xi
Australia and China in joint effort to combat climate change
China to contribute to global economy: Xi