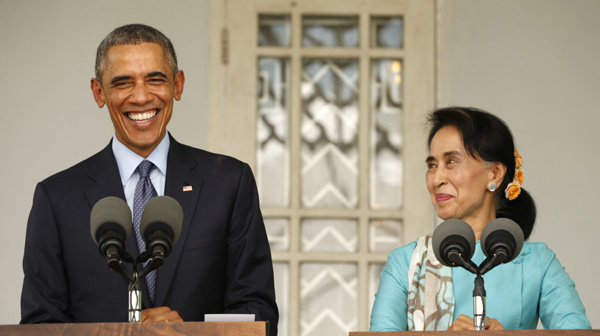 US President Barack Obama and opposition politician Aung San Suu Kyi hold a press conference after their meeting at her residence in Yangon, November 14, 2014. [Photo/Agencies]
YANGON - The United States will support for Myanmar's continued reform to a success, US President Barack Obama told a press briefing here Friday, a day after he attended the East Asia Summit and ASEAN-US Summit in Nay Pyi Taw.
In a joint press briefing with opposition leader Aung San Suu Kyi at her residence in Yangon, Obama stressed inclusiveness in constitutional change to move Myanmar further forward, calling for all sides working together to promote national reconciliation and diffuse sectarian tension among Myanmar's diverse ethnic groups.
He said he witnessed important change in Myanmar over the past two years with the country's economy seeing growth and great opportunities of development lying ahead.
The process of reform is not completed yet. There remains much work to be done with increased efforts, he said.
Myanmar is not the same as five years ago, he said, adding that he expected the timely holding of the country's next general election in 2015 in a transparent manner.
On her part, Suu Kyi expressed objection against violence of any kind racially and religiously, stressing the importance of the rule of law and the need for abiding by the principles of rule of law.
Relating to constitution amendment, she persisted in her efforts to help the constitution be amended within the framework of law, calling for negotiation for a compromise with those who do not want to change the constitution.
"We want to build up a strong foundation for national reconciliation which shall be not just between the different ethnic groups and between religious groups but between different ideas of military supremacy and the idea of civil authorities, " she said.
It was the second time for Obama to come to Myanmar during the tenure of the current civilian government. His first visit was in November 2012.