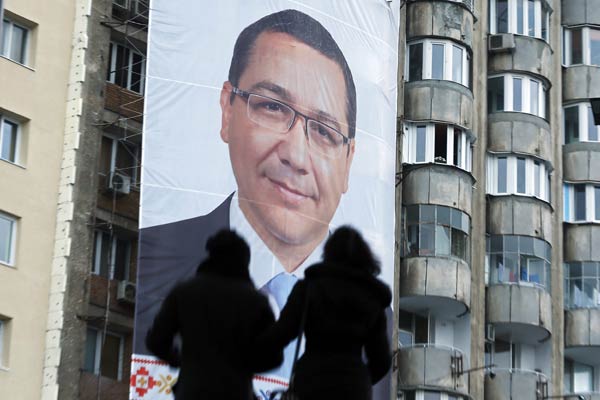 People walk in front of a banner of Romania's Prime Minister Victor Ponta in Bucharest November 1, 2014. [Photo/Agencies]
BUCHAREST - Romanians have begun voting to elect a new leader as President Traian Basescu steps down after 10 years, with the prime minister favored to win in the nation of 19 million.
Prime Minister Victor Ponta faces challengers including a city mayor and a prominent lawyer. If no candidate secures an absolute majority in Sunday's vote, there will be a runoff on Nov. 16.
The president is in charge of defense and foreign policy, names the chiefs of the country's two main intelligence agencies as well as top prosecutors and ambassadors.
The 42-year-old Ponta is an ex-prosecutor whose popularity appears not to have been badly damaged by corruption probes of senior members of his Social Democratic Party. He has pledged lower taxes, higher pensions, good relations with both the European Union and China.