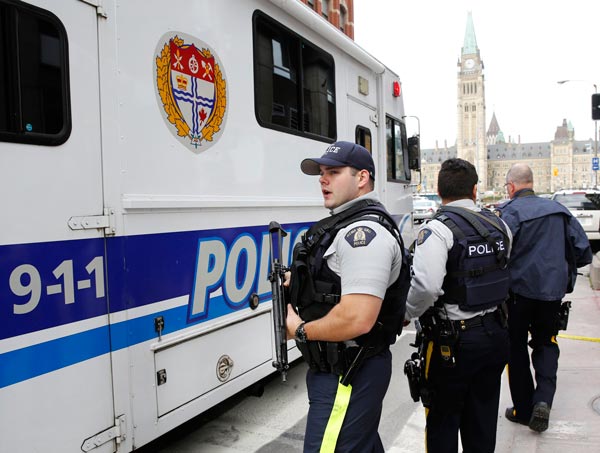 A Royal Canadian Mounted Police officer stands guard on Metcalfe Street following shootings in downtown Ottawa October 22, 2014. [Photo /  Agencies]
OTTAWA -- A Canadian soldier standing guard at the National War Memorial in Ottawa was gunned down and a security guard in the nearby parliament buildings wounded on Wednesday in an attack that police believe involved more than one gunman.
"Condolences to family of the soldier killed and prayers for the parliamentary guard wounded. Canada will not be terrorized or intimidated," Canada's Minister of Employment and Social Development Jason Kenney said on Twitter.
Three separate shootings took place Wednesday morning inside the Canadian Parliament, at the National War Memorial and near the Rideau Center shopping mall, respectively.
It is reported that a suspected gunman, after shooting the soldier at the National War Memorial, then entered the adjacent Parliament building where multiply gunshots were heard.
Police later confirmed that a gunman has been killed inside the parliament building, saying they were looking for possible more suspects. A police briefing on the attack is expected soon.
The shootings came two days after a man attacked two Canadian soldiers in Quebec, Canada. One of those soldiers died from his injuries. The suspect was shot and killed by police.
On Tuesday, Canada raised the domestic terror threat level from low to medium after six Canadian CF-18 hornet fighters departed for the Middle East to join in military strike against the Islamic state of Iraq and Syria forces.