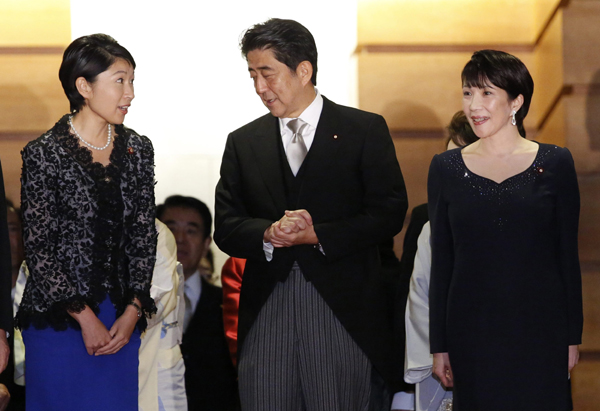 Japan's Prime Minister Shinzo Abe (C) talks with Economy, Trade and Industry Minister Yuko Obuchi (L) and Internal Affairs and Communications Minister Sanae Takaichi as they prepare for a photo session at his official residence in Tokyo in this Sept 3, 2014 file photo. Abe suffered his biggest setback since taking office in 2012 on Monday as his new trade and industry minister resigned over questionable political spending and some media said his justice minister might also be replaced. [Photo/Agencies]
TOKYO - Japanese Prime Minister Shinzo Abe on Monday accepted Economy, Trade and Industry Minister Yuko Obuchi's resignation filed early Monday at Abe's official residence, Japan's Kyodo News reported.
The 40-year-old minister handed a letter of resignation early Monday to Abe over alleged misuse of political funds in a move to take the responsibility for the fund scandal, the first such case since Abe took office in December 2012, said local reports.
The appointment of Obuchi to the post in early September, along with other female ministers, was seen as efforts to walk Abe's talk about his "womenomics" that aims at improving women workforce in Japan so as to revitalize Japan's prolonged sluggish economy.
Obuchi's political fund reports were found contained large shortage for theater outing related to her cabinet appointee's activities and money irregularly used to a design office and clothing shop run by her relatives.
The minister, a daughter of a former prime minister, elected from a single-seat constituency in Gunma Prefecture and is seen as a rising candidate for Japan's future leader.