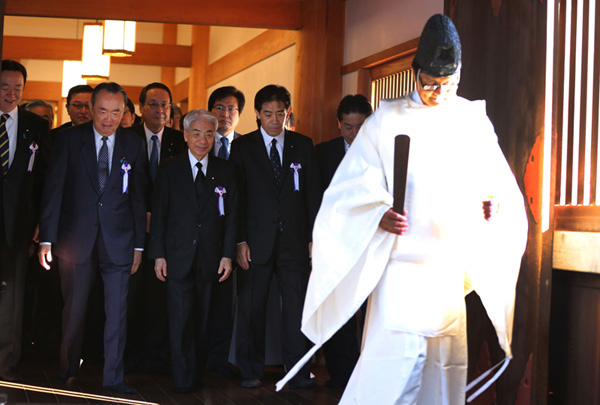 A group of Japanese lawmakers follow a Shinto priest to pay respect for the war dead at the notorious Yasukuni Shrine during an annual autumn festival in Tokyo, Oct 17, 2014. [Photo/IC]
TOKYO - About 110 Japanese lawmakers from a nonpartisan group on Friday morning visited the notorious Yasukuni Shrine as it kicks off a four-day autumn festival.
The lawmakers included members from the ruling Liberal Democratic Party as well as the main opposition Democratic Party of Japan and some other parties.
Earlier the day, Japanese Prime Minister Shinzo Abe dedicated a "masakaki" tree offering under the title of "prime minister" to the shrine, which honors convicted World War II Class-A war criminals along with war dead
Some cabinet members, including Internal Affairs and Communications Minister Sanae Takaichi, may visit the shrine during the semiannual festival.