KIEV, Ukraine - Military officials in Ukraine say there's been a reduction in the number of Russian soldiers at the heart of the fighting between government troops and separatist rebels in eastern Ukraine.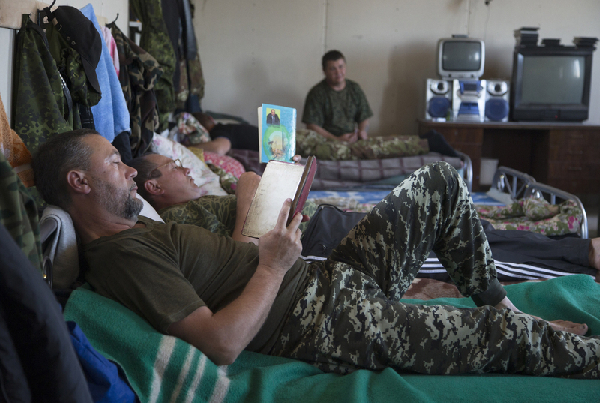 Pro-Russian rebels read books as they rest at their base in the town of Donetsk, eastern Ukraine Monday, Oct 13, 2014. [Photo/IC]
Russian personnel who had been in field camps in Ukraine have been returning to their home bases inside Russia, Ukrainian security spokesman Col. Andriy Lysenko said Monday.
Moscow denies that it has troops in Ukraine or that it supports the separatist forces in Ukraine's largely Russian-speaking eastern regions of Donetsk and Luhansk.
Lysenko described the reported withdrawal as a positive process, but said fighters were still entering Ukraine from southern Russia, where some Ukrainian border posts are controlled by rebels.
A cease-fire declared early last month between Ukrainian forces and rebel fighters has been violated almost daily, although the overall scale of fighting has eased substantially since that time.
Lysenko's statement comes after Russian President Vladimir Putin ordered thousands of his country's troops who were posted near the Ukrainian border to return to their permanent bases. A Kremlin spokesman said Putin had ordered approximately 17,600 troops to return home from the southern region of Rostov.
The withdrawal may be a sign of goodwill ahead of Putin's trip to Milan on Thursday, where he is set to meet with Ukrainian President Petro Poroshenko and European Union leaders.
Ukraine, meanwhile, is shaking up its own military leadership. On Sunday, Poroshenko accepted the resignation of Ukrainian Defense Minister Valeriy Heletey. Parliament is expected to vote Tuesday on his proposed replacement, National Guard head Stepan Poltorak.
Heletey came under sustained criticism for his handling of military operations in eastern Ukraine, where rebels managed to reverse government successes with a consistent supply of powerful weaponry, causing heavy troop losses, especially in August.
Rebel forces now maintain a secure grip over two key eastern cities - Donetsk and Luhansk - and territory bordering Russia running down to the Azov Sea. Ukraine's government still holds large sections of the Donetsk and Luhansk regions.
If Poltorak is confirmed, he may find himself having to deal with dissent among the armed forces. Several hundred National Guard conscripts in uniform marched on the presidential administration Monday evening to demand they be demobilized.
Protesting soldiers said they have already served for up to 18 months, instead of just a year, as is standard.
With the conflict dragging on in the east, the Ukrainian government has had to rely heavily on its standing army and National Guard troops, and on waves of volunteer fighters and draftees.