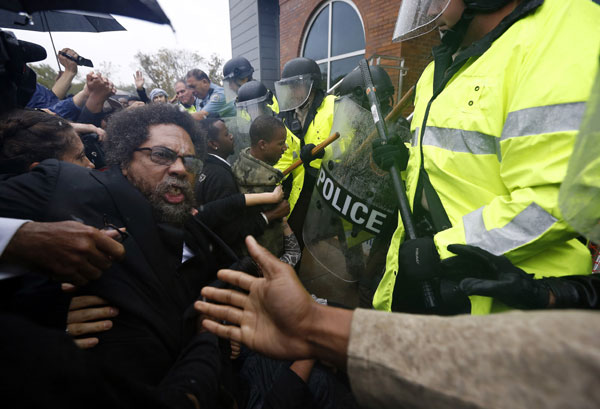 Activist Cornel West is knocked over during a scuffle with police during a protest at the Ferguson Police Department in Ferguson, Missouri, October 13, 2014. Hundreds of protesters converged in the pouring rain on the Ferguson, Missouri, police department on Monday as they launched another day of demonstrations over the August killing by police of an unarmed black teenager. [Photo/Agencies]
ST LOUIS, Mo. - Young black protesters from Ferguson, Missouri, want to keep their anger focused on the fatal police shooting of unarmed 18-year-old Michael Brown as their movement takes on a national dimension that threatens to dilute it.
During a weekend of demonstrations marking the two-month anniversary since Brown, an African American, was killed by a white police officer, protesters challenged the outsiders who arrived in Ferguson pushing an array of agendas.
"The outside people don't know the real struggle. I can't afford to buy plane tickets and hotel rooms like all of these can. They come and cause trouble with their expensive phones and then go home to their rich neighborhoods," said Tory Russell, a local organizer with Hands Up United, which helped put together the weekend demonstrations dubbed Ferguson October.
In Ferguson and St. Louis, young local leaders want to keep their focus on demands for the arrest and indictment of Darren Wilson, the police officer who shot Brown and triggered a national uproar over racial profiling and police brutality.
But members of the Occupy Wall Street movement, the Revolutionary Communist Party and even Palestinian activists have joined the protests.
On Saturday's rally in downtown St. Louis to kick off the weekend's events, protesters carried signs on everything from Palestine to climate change. Socialists handed out newsletters and activists from Minneapolis told people about their drive to change police rules in their city.
On Sunday and Monday, the focus seemed to return to Brown, with chants and signs almost all focusing on the central demand for accountability for the officer involved in the shooting.
Outside activists say everyone needs to take a stand and the issues in Ferguson resound nationally.
Carl Dix of the Revolutionary Communist Party said he came to Ferguson in August to protest and was arrested. He was arrested again on Monday in an act of civil disobedience, along with other national figures.
"People in Ferguson stood up and that put the question of police murder of black people right out in front of all of society," said Dix, who is black. "Everybody has to take a stand and that's what the weekend is a reflection of. More and more people taking a stand."
Local protesters even take issue with national groups calling for justice and a federal probe of police actions in Ferguson, such as the NAACP. They criticize them for showing up for the carefully arranged events this weekend but not having been present to endure the tear gas, rain and arrests that many local activists have faced in the more than 60 days of on-and-off protests.
A number of local protesters demanded to take the stage at the Sunday speakers' rally at the Chaifetz Arena at St. Louis University, where they challenged national figures such as the president of the NAACP, calling them self-righteous and asking where they were when police and protesters clashed in August.
"Tear gas made me stronger," shouted one of the young men.
A local rapper named Tef Poe, who has become a leader in the local movement, spoke about how spontaneous and untrained and raw his movement is. "We're not organizers. We're just real people who saw a problem."
Poe said he was frustrated by local clergy who have not joined protests on the streets but turned out for the speeches at the arena. "Get up off your ass and join us," he said.
On Monday, more than a dozen faith leaders joined protests against police on the street. But their carefully orchestrated demonstration outside the Ferguson police department designed to force the police to arrest them garnered little praise from local activists who prefer more spontaneous acts of civil disobedience.
"To be completely honest I'm not impressed," tweeted Kayla Reed while the faith leaders were being arrested.
Reggie Love, who has lived in and around Ferguson his whole life, and has been at many protests since Brown died, said everyone strives for solidarity to a large extent.
"I see a lot of people, each with their own little groups that don't agree with the way to go about it," said Love, 43, who was handing out water bottles at one of the events on Sunday. "We have to maintain laser focus."