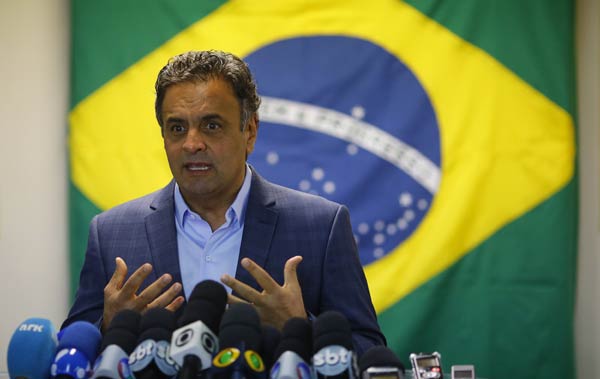 Brazil's Social Democratic Party (PSDB) presidential candidate Aecio Neves attends a news conference in Rio de Janeiro October 9, 2014. [Photo/Agencies]
RIO DE JANEIRO -- Brazilian President Dilma Rousseff and opposition challenger Aecio Neves are tied in the presidential race, opinion polls have shown.
Neves will gain 46 percent of the vote in a run-off scheduled for Oct. 26, while Rousseff will get 44 percent, according to Ibope and Datafolha polls whose results were released late Thursday.
The candidates are technically tied as the polls had margins of error of two points.
In the first round of elections held on Sunday, Rousseff won 41.6 percent of the vote, compared with 33.6 percent for Neves.
However, Neves consolidated his position after winning the support of several political parties, including the the Socialists, whose candidate, Marina Silva, won 21 percent of the vote in the first round.
Silva herself has not declared support to any of the candidates, though she is believed to either support Neves or remain neutral.
The Socialism and Freedom Party, which ranked fourth in the first round, has recommended support for Rousseff or blank votes. Prominent leaders of the party have declared open support for Rousseff.