SALT LAKE CITY - When Jim Crowder saw a news headline on his cellphone on Monday morning that a Supreme Court decision had made gay marriage legal again in Indiana, he immediately called his partner of 31 years.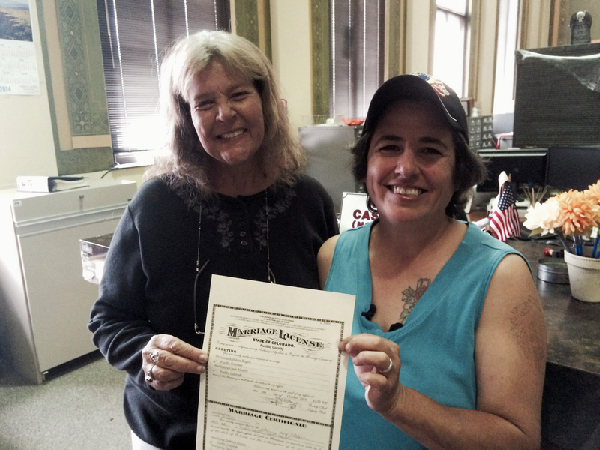 Stacey Nowlin, left, and her partner Leona Kat Rogers, show their new marriage license, just after it was issued to them, at the Pueblo County Clerk's Office, in Pueblo, Colo.,Oct 6, 2014. [Photo/IC]
"If we're going to do it, let's do it now," Crowder told Alan Combs and by 2 pm they were married by a judge in Jeffersonville, Indiana.
The couple had almost given up on getting married as the Indiana government fought court rulings against the state's ban on gay marriages. "I really thought we were beating a dead horse," said Combs, 60.
Crowder and Combs were among dozens of gay and lesbian couples who jumped into action on Monday in Virginia, Oklahoma, Utah, Wisconsin and Indiana after the Supreme Court rejected appeals in gay marriage cases in those five states.
The court left intact lower-court rulings striking down bans on gay marriage, and county clerks began issuing marriage licenses on Monday afternoon.
In Salt Lake City, Gregory Enke and Ariel Uoola Gonzalez wasted no time in getting to the county marriage bureau, where they got a license. Wearing jeans, they were quickly wed in a ceremony in which they exchanged rings.
"I shed all my tears this morning. I really did," Enke said. "I was just overwhelmed by the court's action."
While he felt overjoyed for his own situation he said he felt sad about friends in states such as Mississippi and North and South Carolina, where gay marriage is still banned.
As a result of the Supreme Court decision on Monday, the number of US states permitting gay marriage would jump from 19 to 24, likely soon to be followed by six more states that are bound by the regional federal appeals court rulings that had struck down bans. That would leave another 20 states that prohibit same-sex marriage.
Tyne Smeltzley was driving to work in Columbus, Indiana, when she heard the news and immediately phoned her partner, Amber Parlett. The two 29-year-olds both called in sick and rushed to the courthouse to get a marriage license.
"We need to go right away," Smeltzley told Parlett, who had proposed marriage to her some time ago. They are planning to have small wedding ceremony soon.
For some gay couples who had gotten married outside their home states in recent years, Monday was the day they could have their marriage recognized at home. For example, they could change the name on their state identification card if they had adopted the last name of their partner.
"My face hurts, I've been smiling so much today," said Sara Maib in Oklahoma City, who immediately rushed to change her last name to her partner's. "The Supreme Court took a normal, crappy Monday and turned it into the coolest day ever. I didn't think this would happen so soon."
In Milwaukee, Wisconsin, Roy Badger raced home when he got the news and blasted ABBA's "Dancing Queen," a popular song in the 1970s when he and his partner Garth Wangemann enjoyed Milwaukee's gay bar scene.
"I'm very sorry to the neighbors but I was a little bit overjoyed," said Badger, who plans to marry Wangemann on Nov. 7, their 38th anniversary of being together.