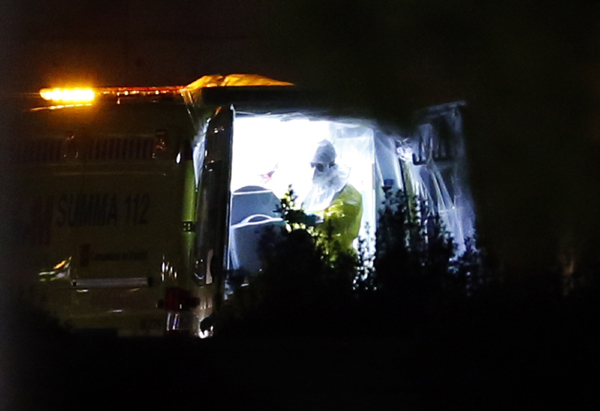 A medical worker in protective gear stands next to a special stretcher carrying a Spanish nurse who was infected by Ebola, outside Alcorcon's hospital, near Madrid, early October 7, 2014. A Spanish nurse has become the first person to contract Ebola outside of Africa, casting doubt over measures taken in Spain to control the potential spread of the deadly disease. [Photo/Agencies]
WASHINGTON - Raising fresh concern around the world, a nurse in Spain on Monday became the first person known to catch Ebola outside the outbreak zone in West Africa.
In the US, President Barack Obama said the government was considering ordering more careful screening of airline passengers arriving from the region.
In dealing with potential Ebola cases, Obama said, "we don't have a lot of margin for error."
Already hospitalized in the US, a critically ill Liberian man, Thomas Duncan, began receiving an experimental drug in Dallas. But there were encouraging signs for an American video journalist who returned from Liberia for treatment. Ashoka Mukpo, 33, was able to walk off the plane before being loaded on a stretcher and taken to an ambulance, and his father said his symptoms of fever and nausea appeared mild.
In Spain, the stricken nurse had been part of the medical team that cared for a 69-year-old Spanish priest, who died Sept 25 in a Madrid hospital designated for treating Ebola patients, after he was flown home from Sierra Leone, where he served as the medical director of a hospital there treating infected Ebola patients, Health Minister Ana Mato said.
The nurse's only symptom was a fever, but the infection was confirmed by two tests, Spanish health officials said. She was being treated in isolation, while authorities drew up a list of people she had had contact with.
More than 370 health workers in West Africa have become infected in the outbreak, and more than half of those have died. Doctors and nurses there have worked under difficult conditions, treating patients in overflowing wards, sometimes without proper protection. But even under ideal conditions, experts warn that caring for Ebola patients always involves a risk.
WHO estimates the latest Ebola outbreak has killed more than 3,400 people.
The World Health Organization on Monday night confirmed there has not been a transmission outside West Africa in the current outbreak prior to the Spanish nurse.
Spanish authorities said they were investigating how the nurse became infected at a hospital with modern health care facilities and special equipment for handling cases of deadly viruses. The virus that causes Ebola spreads only through direct contact with the bodily fluids of an infected person showing symptoms.