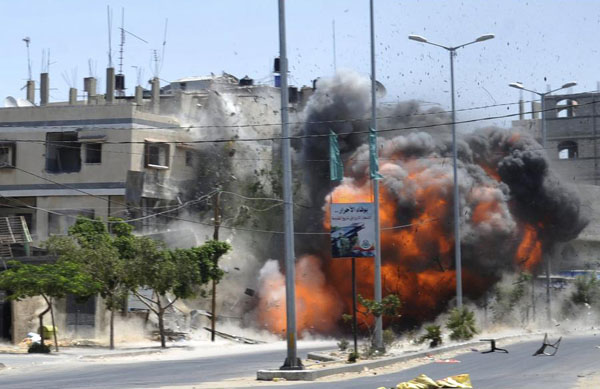 A view of what witnesses said was an explosion caused by an Israeli air strike on a house in Gaza City in this August 23, 2014 file photo. [Photo/Agencies]
JERUSALEM -- Israel's Foreign Minister Avigdor Lieberman's office said on Sunday that it will summon the Swedish ambassador to protest newly-elected Prime Minister Stefan Lofven's decision to recognize the Palestinian state.
Late on Saturday, Lieberman said in a statement that he " regrets" that the Swedish Prime Minister "was in a hurry to make statements on Sweden's position regarding recognition of a Palestinian state, apparently before he had time even to study the issue in depth."
Lieberman said that Lofven "has not yet internalized that those who have posed an obstacle over the last 20 years to progress and an agreement between Israel and the Palestinians are the Palestinians."
In his inaugural address to parliament on Friday, Lofven said the Israeli-Palestinian conflict can only be resolved by a two-state solution which "requires mutual recognition and the will to co-exist peacefully."
"Sweden will therefore recognize the State of Palestine," Lofven said, but did not mention how or when it would be done.
Israel fears that other major European countries will follow Sweden to recognize a Palestinian state.
The Palestinians want an independent state in the West Bank and the Gaza Strip, which Israel captured in the 1967 Middle East war.
Over the past years, several rounds of US-brokered negotiations between Israel and the Palestinians have only reached a deadlock over the construction of Jewish settlements in the West Bank, which is illegal under the international law. In April, Israel ceased the talks due to a unity agreement between Palestinian factions Fatah and Hamas, the latter of which has been seen by Israel as a bitter enemy. No official negotiation is underway between the two sides.