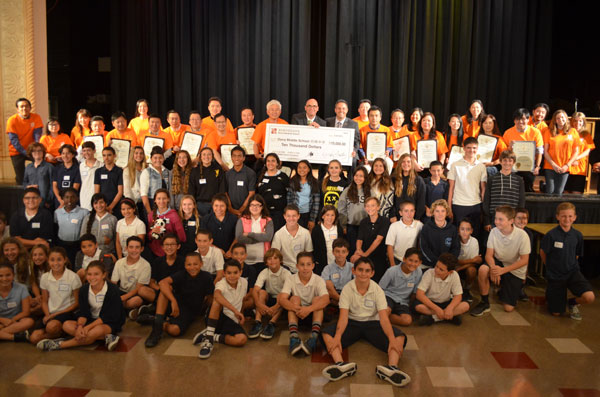 Chinese Enterprise Council (CEC) donates $10,000 to Richard Henry Dana Middle School to support the students' well-rounded education on Monday in San Pedro, California. Zhang Xuming (13th from left in the last row), President of CEC and President of Aviation Industry Corporation of China International USA, handed over the check to Steve Gebhart (to Zhang's right), principal of Dana Middle School, with the presence of Joe Buscaino (second to Zhang's right), councilman of Los Angeles City at the donation ceremony. Photo provided for China Daily.
A California middle school will be able to resume canceled science and art classes due to budget cuts after a donation from a Chinese nonprofit organization.
The Chinese Enterprise Council (CEC) provided $10,000 to the Richard Henry Dana Middle School in San Pedro, California, on Monday. The school will to resume classes which had been suspended due to state cuts in educational funding. As a member of the Los Angeles Unified School District, the largest public school system in California, Dana Middle School was noted for its well-rounded educational program. CEC's donation will help restart canceled science and art classes in the spring semester.
The China Enterprise Council was established in California in 1993. The group's goals include promoting US-China economic development and trade, encouraging cooperation among US and China enterprises, protecting Chinese enterprises' interests and helping Chinese enterprises enter the US market. CEC has about 100 members including state-owned enterprises, government representative offices and private businesses. Membership includes Bank of China, AVIC International US, Chinatex Grains & Oils (USA) , China Minmetals US, and China Mobile US.
Steve Gebhart, the principal of Dana Middle School, expressed gratitude to the CEC. "Middle-school students are on their way to success. They are no longer kids, and they are in the transition to become high school students. It is important that we have abundant resources to engage our students, so that they can get ready for the real world," he said.
Joe Buscaino, a member of the Los Angeles city council, encouraged the students to take the successful businessmen and businesswomen in the CEC as role models. He added, "China is an amazing place. One day, we will all land there. Hence, it is critical that we should understand each other's culture."
"You are always welcome to find us, if you are interested in knowing more about China," said Zhang Xuming, president of CEC and president of Aviation Industry Corporation of China International USA, after he received a souvenir from Gebhart.
Zhang gave a brief introduction of CEC to the students and teachers at the school. "CEC focuses on the relationship between US and China, serving as a bridge to promote mutual understandings," said Zhang.
As a part of the donation activity, representatives from CEC members Aviation Industry Corporation of China International USA, China Telecom USA, China Unicom USA, Olympic Express, CITIC Bank and China Industrial and Commercial Bank, presented four seminars at the school. The seminars were on career planning, environment protection, financing and saving, and preparing for college.
Jim Zhan, director of the mobile business department at China Telecom USA, told China Daily he was impressed by the passion the young middle-school students displayed on China. In the career-planning seminar, Zhan assisted in teaching 15 seventh grade students how to plan for a profession in the future. "For many kids in the class, it is their first time to seriously think about their future and discuss with industry professionals like myself. I am glad that I can help," said Zhan.
The CEC representatives also taught the students some simple Chinese after the seminars, such as the Chinese of "sunshine.
"California is famous for its sunshine, and you are also the sunshine of our world," said CEC President Zhang Xuming. The students said "XieXie" back to the CEC representatives to show their thanks.