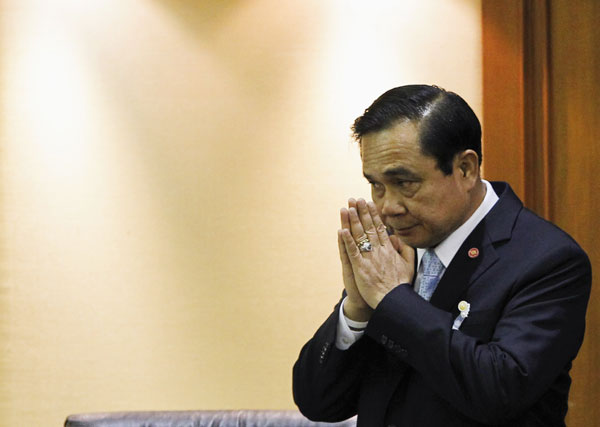 Thai Army chief General Prayuth Chan-ocha gestures in a traditional greeting during the start of a National Legislative Assembly meeting to consider urgent matters including the 2015 Budget Bill, at the parliament in Bangkok on August 18, 2014. [Photo/Agencies]
BANGKOK -- Thailand's National Legislative Assembly (NLA), or the post-coup interim legislature, will elect a provisional prime minister on Thursday, NLA president Pornpetch Wichitcholchai said Tuesday.
Voting on the rules for electing the PM and the election itself have been put on the NLA's Thursday agenda, Pornpetch said, adding the legislature has yet to work out regulations for its meetings.
The new prime minister will select up to 35 cabinet members and an interim government is expected to start operation in September.
It has been widely speculated that Prayuth Chan-ocha, head of the ruling National Council for Peace and Order (NCPO) and army chief, will become the new interim premier.
Prayuth reportedly asked people on Monday not to worry about who would be the prime minister or cabinet members. "Whoever they are, we can control them and ensure they can work," he said.
Relates stories:
Thailand waives visa fees for Chinese tourists